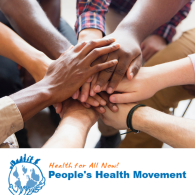 In the face of the humanitarian tragedy, pain and devastation experienced by the victims of the earthquake and its aftershocks in Syria and Turkey in recent days, the People's Health Movement expresses its solidarity with the affected individuals, families and communities. With the strength of the struggles for health and well-being for all, we want to bring a message of hope and relief to those suffering and mourning their losses. We urge governments, the international community and civil society organizations to provide the necessary support to save lives, bring relief to survivors and rebuild communities in the affected areas without a geopolitical agenda at this time of crisis. We extend a salute of appreciation to the health workers and rescuers attending the emergency for their sacrifice and dedication at this time. We wish them the strength and resources necessary to do their work bringing relief in the midst of such an extreme situation.
---
El Movimiento por la salud de los pueblos se solidariza con el pueblo sirio y el pueblo turco
Ante la tragedia humanitaria, el dolor y la devastación que viven las víctimas del terremoto y sus réplicas en Siria y Turquía de los últimos días, el Movimiento por la Salud de los Pueblos expresa su solidaridad con las personas, familias y comunidades afectadas. Con la fuerza de las luchas por la salud y el bienestar para todos, queremos llevar un mensaje de esperanza y alivio para aquellos en sufrimiento y que lloran sus pérdidas. Exhortamos a los gobiernos, a la comunidad internacional y a las organizaciones de la sociedad civil a que se brinde el apoyo necesario para salvar vidas, traer alivio a los sobrevivientes y reconstruir a las comunidades en las áreas afectadas sin una agenda geopolítica en estos momentos de crisis. Extendemos un saludo de reconocimiento a los trabajadores de la salud y rescatistas que atienden la emergencia por su sacrificio y entrega en estos momentos, deseamos que tengan la fuerza y los recursos necesarios para hacer su trabajo trayendo alivio en medio de una situación extrema como esta.
---
Le Mouvement populaire pour la santé en solidarité avec les peuples syrien et turc
Face à la tragédie humanitaire, la douleur et la dévastation vécues par les victimes du tremblement de terre et de ses répliques en Syrie et en Turquie ces derniers jours, le Mouvement populaire pour la santé exprime sa solidarité avec les personnes, les familles et les communautés touchées. Forts des luttes pour la santé et le bien-être de tous, nous voulons apporter un message d'espoir et de soulagement à ceux qui souffrent et pleurent leurs pertes. Nous exhortons les gouvernements, la communauté internationale et les organisations de la société civile à fournir le soutien nécessaire pour sauver des vies, soulager les survivants et reconstruire les communautés dans les zones touchées, sans agenda géopolitique en cette période de crise. Nous saluons les travailleurs de la santé et les secouristes qui se sont occupés de l'urgence pour leur sacrifice et leur dévouement en ce moment, et nous leur souhaitons la force et les ressources nécessaires pour accomplir leur travail en apportant des secours au milieu d'une situation aussi extrême.
---
حركة صحة الشعب تضامنا مع الشعبين السوري والتركي 
في مواجهة المأساة الإنسانية والآلام والدمار التي يعيشها ضحايا الزلزال وتوابعه في سوريا وتركيا في الأيام الأخيرة ، تعرب حركة صحة الشعب عن تضامنها مع المتضررين من الأفراد والأسر والمجتمعات.
مع قوة الكفاح من أجل الصحة والرفاهية للجميع ، نريد أن نبعث برسالة أمل وإغاثة لمن يعانون ويحزنون على خسائرهم.
نحث الحكومات والمجتمع الدولي ومنظمات المجتمع المدني على تقديم الدعم اللازم لإنقاذ الأرواح وإغاثة الناجين وإعادة بناء المجتمعات في المناطق المتضررة دون أجندة جيوسياسية في وقت الأزمة هذا.
نتقدم بتحية وتقدير للعاملين الصحيين وعمال الإنقاذ الذين يحضرون الطوارئ لتضحياتهم وتفانيهم في هذا الوقت. نتمنى لهم القوة والموارد اللازمة للقيام بعملهم في إغاثة وسط مثل هذا الوضع القاسي.