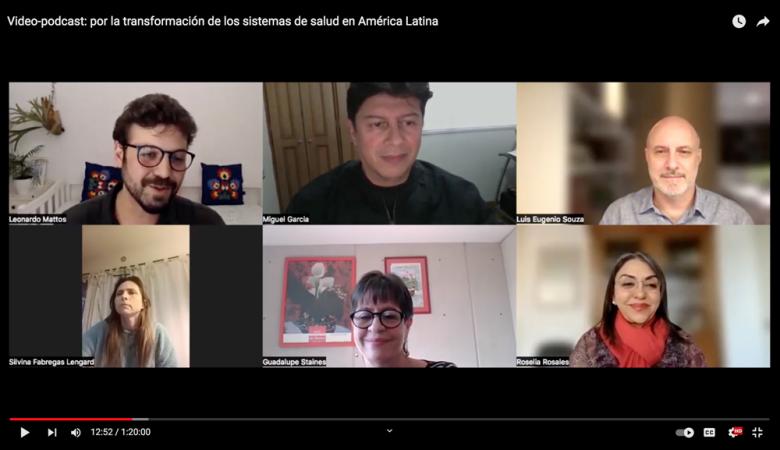 En una conversación amplia y amena, algunos integrantes del Movimiento por la Salud de los Pueblos en América Latina, hablan de la situación de modelos sanitarios del continente, sus expectativas y alcances de la campaña, con una perticipación especial del Dr. Román Vega, Coordinador Global del MSP. Participaron en este espacio, desde Argentina de Silvina Fabregas, de México Roselia Rosales y Guadalupe Staines, Luis Eugenio de Souza desde Brasil, Leonardo Mattos también desde Brasil y quien conduce el programa. 
---
Em uma conversa ampla e agradável, alguns membros do Movimento de Saúde dos Povos da América Latina falaram sobre a situação dos modelos de saúde no continente, suas expectativas e o alcance da campanha, com a participação especial do Dr. Román Vega, Coordenador Global da MSP. Silvina Fabregas da Argentina, Roselia Rosales e Guadalupe Staines do México, Luis Eugenio de Souza do Brasil, Leonardo Mattos também do Brasil e o anfitrião do programa. 
---
In a wide and pleasant conversation, some members of the People's Health Movement in Latin America talked about the situation of health models in the continent, their expectations and the scope of the campaign, with the special participation of Dr. Román Vega, Global Coordinator of the PHM. Silvina Fabregas from Argentina, Roselia Rosales and Guadalupe Staines from Mexico, Luis Eugenio de Souza from Brazil, Leonardo Mattos also from Brazil and the host of the program participated in this space.