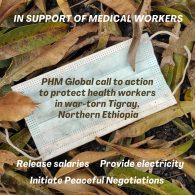 Health workers in Tigray are working in a collapsed health system. Tigray Regional health Bureau (TRHB) revealed that 78% of health posts, 72% of health centres, and 80% of hospitals were
destroyed
as of January 2022. Moreover,
85-90 percent of health centres
 were partially or fully non-functional; and
90 percent
of ambulances were either destroyed or looted. Health workers and other employees in Tigray are now without salary since June 2021, and they cannot access their savings or receive remittance from family and friends abroad due to the bank closure. PHM has raised the dire situation in Tigray in its previous
call
, condemns the targeted attack of health workers and health facilities in the region, and call on all State and non-State parties to fulfil their obligations under international humanitarian and human rights law. PHM is committed to the safety and security, health and human rights of health workers in conflicts and war situations and humanitarian settings.
Read the statement in English here.
español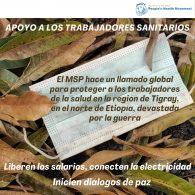 El personal médico de Tigray trabaja en un sistema de salud colapsado. La Oficina Regional de Salud de Tigray (TRHB) reveló que el 78% de los puestos de salud, el 72% de los centros de salud y el 80% de los hospitales fueron destruidos en enero de 2022. Además, entre el 85% y el 90% de los centros de salud no funcionaban o lo hacían parcialmente, y el 90% de las ambulancias habían sido destruidas o saqueadas. Los trabajadores de la salud y otros empleados de Tigray están ahora sin salario desde junio de 2021, y no pueden acceder a sus ahorros ni recibir remesas de familiares y amigos en el extranjero debido al cierre de los bancos.
El MSP ha denunciado la grave situación de Tigray en el comunicado anterior sobre este asunto, condena los ataques selectivos contra los trabajadores sanitarios y los centros de salud de la región, y pide a todas las partes estatales y no estatales que cumplan sus obligaciones en virtud del derecho internacional humanitario y de los derechos humanos. El MSP está comprometido con la seguridad, la salud y los derechos humanos de los trabajadores de la salud en los conflictos y situaciones de guerra y en los entornos humanitarios.
Lea la declaración en español aquí.
Français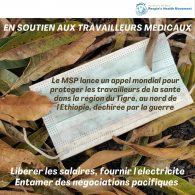 Le personnel médical du Tigré travaille dans un système de santé effondré. Le Bureau régional de la santé du Tigré (TRHB) a révélé que 78% des postes de santé, 72% des centres de santé et 80% des hôpitaux ont été détruits en janvier 2022. En outre, 85 à 90 % des centres de santé ne fonctionnaient pas ou partiellement, et 90 % des ambulances avaient été détruites ou pillées. Les travailleurs de la santé et les autres employés du Tigré sont maintenant sans salaire depuis juin 2021, et ne peuvent pas accéder à leurs économies ou recevoir des transferts de fonds de leurs familles et amis à l'étranger en raison de la fermeture des banques.
Le MSP a dénoncé la grave situation au Tigré dans le communiqué précédent sur cette question, condamne les attaques ciblées contre les travailleurs de la santé et les installations sanitaires dans la région, et appelle toutes les parties étatiques et non étatiques à se conformer à leurs obligations en vertu du droit international humanitaire et des droits de l'homme. PHM s'engage à assurer la sécurité, la santé et les droits de l'homme des travailleurs de la santé dans les situations de conflit et de guerre et dans les contextes humanitaires.
Lisez la déclaration en français ici.