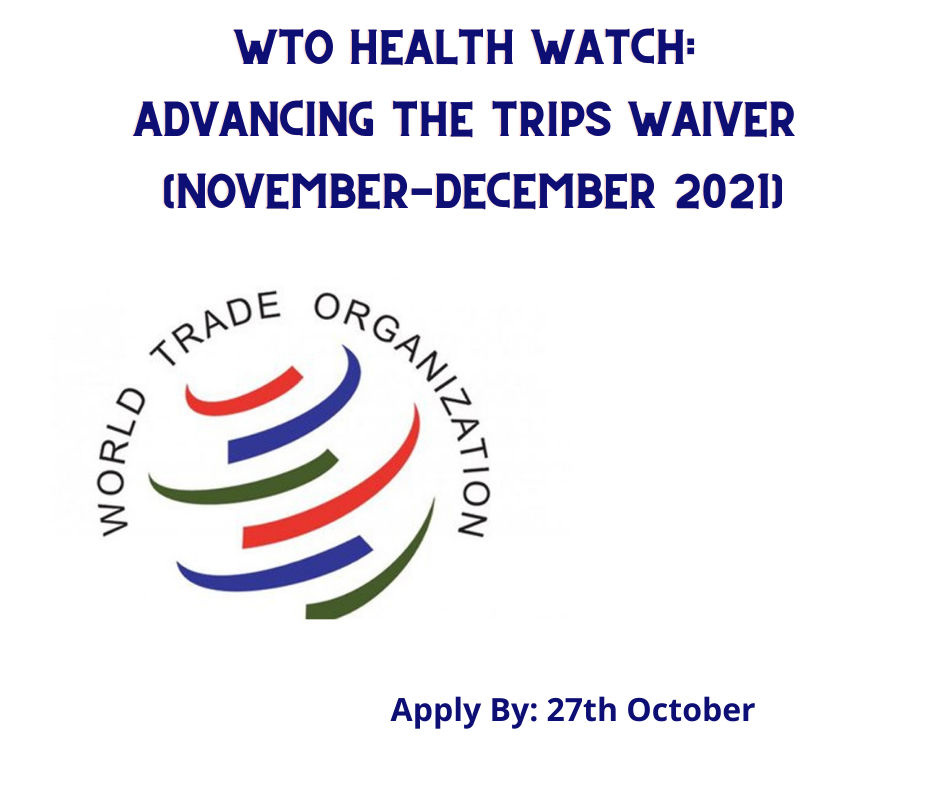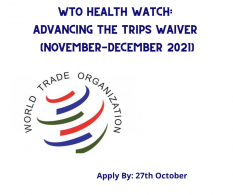 The People's Health Movement will be sending a four-person delegation to the 12
th
Ministerial Conference (MC12) of the World Trade Organisation (WTO) taking place in Geneva, Switzerland from 30 November to 3 December, 2021. This year the WTO is meeting in the context of an unprecedented health emergency – the COVID-19 pandemic. The pandemic is being exacerbated by the inequitable distribution of COVID-19 vaccines, therapeutics and diagnostics. The WTO is responsible for enforcing an intellectual property right (IPR) regime – the Trade Related Aspects of Intellectual Property Rights (TRIPS) – that is effectively undermining sufficient supply and equitable distribution of new COVID-19 technologies. It has the opportunity to address this injustice by supporting the TRIPS Waiver request, initially tabled by South Africa and India in October 2020 and since supported by several WTO member states. For the first time this year, PHM will be sending an official delegation to attend a WTO Ministerial Conference. It seeks to put together a small team of four watchers (WTO Health Watch), who will be attending the WTO plenaries and side events virtually. The focus of this delegation will be on the TRIPS Waiver request. As this is the first time PHM is participating in this forum, we are narrowing our focus to monitoring and shaping the debates on this urgent health related matter, both at MC12 and through producing policy and advocacy briefs on the events at MC12 that can be used to sustain country-level advocacy in support of equitable access to COVID-19 technologies after the conference. Delegates will also get familiarity with other items on the agenda that impact health, though this will not be a primary focus of their work.
Joining the Watch team
We urgently call for applicants to join the WTO Health Watch. Applicants with familiarity with the TRIPS Waiver, and more broadly, barriers to equitable access to COVID-19 technologies are strongly encouraged to apply. In addition, we will be following other trade and health agenda issues, specifically negotiations around trade in health services and digitalisation, during the Watch. Candidates familiar with these topics are also highly encouraged to apply. The chosen delegates will be expected to participate in a preparatory workshop for MC12, which will take place prior to the conference in November 2021. This workshop will also be open to activists interested in advancing equitable access to COVID-19 technologies withn their country circles, even if they have not been chosen to be part of the official delegation at MC12.
The deadline for applications is Wednesday, 27 October 2021.
[wpforms id="4261" title="true"]