Inviting contributions for PHM Campaign on the Right to Safe Abortion- September 28, 2023
Dear Friends, Comrades and fellow feminists,
Greetings!

We hope this message finds you well and safe. As the Gender Justice Thematic Group, we mobilize actions every year on International Safe Abortion Day, which falls on September 28th. This year, it is crucial to emphasize our demand for 'Access to safe, quality, and legal abortion' and strengthen global solidarity on feminist and public movements. As PHM, we stand affirm in speaking out for the Abortion rights of ALL young girls, women, and gender non-binary persons. As ardent supporters of reproductive justice, we reiterate that abortion is healthcare and equitable access to safe, legal, and healthcare system-provided abortion must not be compromised under any circumstances.
In 2018, we issued a statement following the fourth People's Health Assembly (PHA4), which helped to build solidarity with other networks and movements. In recent times, we were pleased to hear of the decriminalization of abortion in Mexico, but unfortunately, access to safe abortion services remains a challenge in many other countries, even where they are legal, due to weakened and gender-biased health systems. We must all stand against repressive tactics and policies that punish healthcare providers for offering abortion care. The experiences of individuals like Dr. Caitlin Bernard in the USA and many others like her in different parts of the world highlight the need for urgent action and mobilization to demand healthcare for all and justice for those who fulfill their ethical duties as healthcare providers.
Many feminists and rights-based groups come together on September 28th to observe International Safe Abortion Day and shed light on the continued violations and marginalization of this issue. The Gender Justice Thematic Circle invites you to join the campaign for the Right to Safe Abortion on September 28, 2023. We urge governments, UN agencies, civil society organizations, health providers, and the private sector to make abortion safe, legal, available, accessible, and affordable by playing their due role in ensuring access and eliminating all laws and policies that restrict or criminalize access.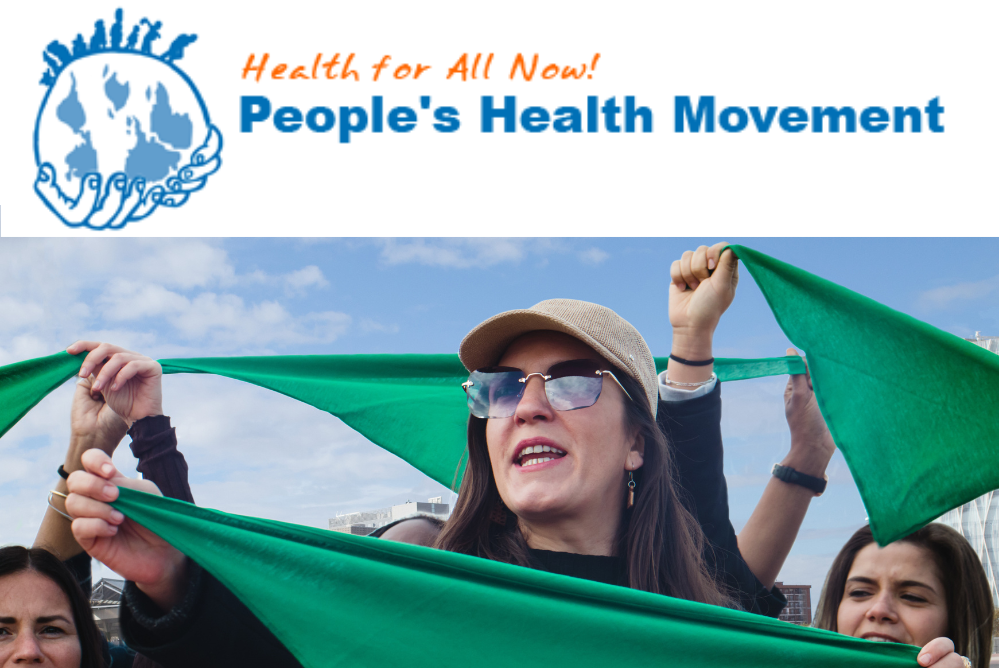 We invite your participation in the following activities towards this year's campaign:
1. Share messages, posters, and pictures reaffirming abortion rights and key messages on social media and tag us (@PHMglobal X handle). Use the hashtags #SafeAbortion,  #AbortionRights,  #PHMGenderJustice.
Message Prompt(s): 
Access to abortion is an essential healthcare service that should be made available to anyone who needs it worldwide. 
We must strengthen public health systems to ensure marginalized women and non-binary individuals have improved access to abortion care.
Abortion should be a right for all, not a privilege for a few, and reproductive justice is a critical component of health justice. 
Let's work towards reproductive justice for everyone by decriminalizing sexual and reproductive health and rights (SRHR) and removing stigmas surrounding the bodily autonomy and integrity of women and non-binary individuals. 
Let's make SRHR central and essential to universal health coverage.
Please add or modify these prompts to develop country- and region-specific content and messages. Do reach out to <deepika@phmovement.org> & <mailtoadsa@gmail.com> for any clarifications or assistance in this regard.  
2. Make short videos and share them with us. We will disseminate them through PHM social media channels.
3. If you have planned a panel discussion or webinar in your region or circle, please share the link with us if it is an open space for participation.
4. Send an article or blog piece (500-700 words write-up) that we could consider getting published in our sister news portal, People's Health Dispatch.
We look forward to hearing from you, and please share this email with your regional chapters.

In Solidarity,
Deepika, Adsa, Leo and Sarojini
On behalf of Gender, Justice, and Health Thematic Group of PHM