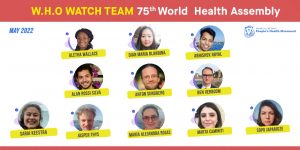 People's Health Movement's WHO Watch team closely followed the 75th World Health Assembly meeting of the World Health Organisation held from 22-28 May, 2022. We undertake this process as part of democratising the global health governance. The Watching team consisted of Aletha Wallace (Belgium); Dian Maria Blandina (Indonesia/Germany); Marta Caminiti (Italy); María Alejandra Rojas (Colombia); Sarai Keestra (Netherlands); Anton Sundberg (Germany); Abhishek Royal (India); Jasper Thys (Belgium); Alan Rossi Silva (Brazil); Sopo Japaridze (Georgia); Ben Verboom (UK/Canada). The team was assisted by Lauren Paremoer; Susana Barria, Roman Vega, Jyotsna Singh and Gargeya Telakapalli. The 75th WHA WHO-Watch marks the physical attendance after a gap of two years due to the Covid-19 pandemic travel restrictions.
The work is supported by many resource persons of PHM and allied organisations who bring their expertise on specific issues to this forum. Compiled comments on various agenda items can be read here: Background and Commentary on Items before WHA75 May 2022.
In collaboration with Medicus Mundi International, PHM delivered statements of crucial importance at the meeting. See links to the statements, posters and videos below:
13. Sustainable financing: report of the Working Group: Statement  Poster  Video
14.1 Prevention and control of non-communicable diseases: Statement  Poster  Video
14.1 (b), (i) & (e) Obesity, diabetes and cervical cancer: Statement  Poster  Video
14.1 (h) Draft action plan to reduce harmful use of alcohol: Statement  Poster  Video
14.2, 14.3 & 14.4 HIV, Viral Hepatitis, STIs, TB R&D and NTDs: Statement  Poster  Video
14.5 Immunization Agenda 2030: Statement  Poster  Video
15. Human resources for health (submitted by Public Services International): Statement
16.1 & 16.3 IOAC report and health emergencies: Statement  Poster  Video
16.2 & 16.4 International Health Regulations and health Emergencies: Statement  Poster  Video
17.1 Influenza preparedness: Statement  Poster  Video
17.2 Global Health for Peace Initiative: Statement  Poster  Video
17.3 Poliomyelitis, including eradication and transition planning and polio post-certification: Statement  Poster  Video
18.1 Maternal, infant and young child nutrition: Statement  Poster  Video
PHM, Medicus Mundi International (MMI) and Geneva Global Health Hub (G2H2) organised an informal daily virtual civil society meeting during WHA75 called WHA Today. The space helped in sharing ideas and coordinating work during the week of WHA. The discussions were rich with topics like health emergencies, non-communicable diseases and sexually transmitted diseases were discussed threadbare. The discussions also revolved around the problematic role that private industry plays in many areas of health – it poses barriers in addressing harmful effects of alcohol and adversely impacts infant nutrition. WHO's inability and reluctance to address these concerns was raised vehemently. Jyotsna Singh and Gargeya Telakapalli from PHM were part of the organising team. Members of the WHO Watch team provided debrief from the previous day's developments which was highly appreciated by everyone, especially those CSO members who were unable to follow the Assembly live.
Similar space had been organised thrice earlier – first, during the World Health Assembly in May 2021 called WHA Today; second, during Special Session of WHA in November 2021 called WHA Today (SS); and third, during Executive Board meeting in January 2022. It has emerged as an important space for Civil Society members and activists to coordinate and share concerns regarding Global Health Governance.
PHM also organised a webinar titled "Undermining democratic and multilateral responses: Multistakeholderism in global health governance" on 20 May, 2022. The panellists looked at the threats imposed multistakeholder mechanisms that have in captured multilateral institutions such as the WHO. This has direct impact on people's health, children's education, digital rights, access to basic public services and human rights, including the right to a healthy environment.
Recording of the webinar can be accessed here: English Español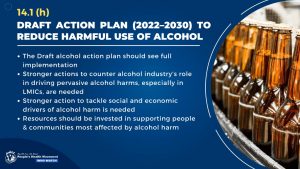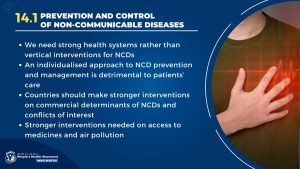 #WHA75 is discussing #poliomyelitis today, amidst so many wars & conflicts. It is to be noted that wars have played a negative role in endemic countries & @WHO should take a stand for speedy and just resolution of conflicts.@mmi_updates @G2H2_Geneva @gargeyaT pic.twitter.com/o8BX8lJWQM

— PHM (@PHMglobal) May 28, 2022
Sharing of potentially pandemic pathogens and seasonal influenza viruses should be based on principles of equity. Expansion of the GISRS should be based on a clear mandate from WHA. @WHO @alethawallace2 with PHM & @mmi_updates statement on #Influenza Preparedness at #WHA75 pic.twitter.com/VrjhsL8eGZ

— PHM (@PHMglobal) May 28, 2022