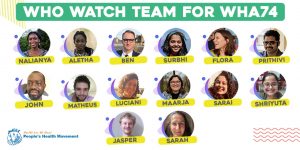 The People's Health Movement's WHO Watch team closely followed the 74th World Health Assembly of the World Health Organisation held from 24 May to 1 June, 2021. The Watching team consisted of Aletha Wallace (Belgium), Nalianya Emma (Kenya), Luciani Martins Ricardi (Brazil), Metheus Falcao (Brazil), Shriyuta Abhishek (India), Surbhi Shrivastava (India/USA), John Mahama (Ghana), Prithivi Prakash (India/Australia), Maarja-Liis Ferry (UK), Sarah Derdelinckx (Belgium),  Sarai Keestra (Netherland) and Jasper Thys (Belgium).
In collaboration with Medicus Mundi International, PHM delivered statements of crucial importance at the meeting. See links to the statements, posters and videos below:
PHM, Medicus Mundi International (MMI) and Geneva Global Health Hub (G2H2) organised an informal daily virtual civil society meeting during the WHA74. The space helped in sharing and coordinating during the Assembly. Attendees raised many crucial issues such as stifling of Civil Society voice in WHO's processes. Jyotsna Singh and Ana Vracar from PHM were part of the moderating team. Members of the WHO Watch team provided debrief from the previous day's developments which was highly appreciated by everyone, especially those CSO members who were unable to follow the Assembly live. Link to WHA Today page can be found here.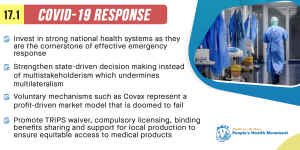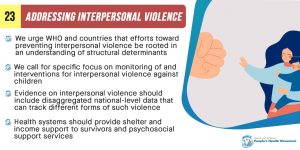 Mental health burden of #COVID19 has disproportionately impacted the most vulnerable. We need to address structural inequalities created by neoliberal capitalism to have a safer society for everyone.

Statement by PHM and @mmi_updates #WHA74 @nalianyajnr pic.twitter.com/8KQZ6zrwdK

— PHM (@PHMglobal) May 25, 2021
We strongly condemn this month's attacks on the Palestinian people by Israeli occupying forces (IOF) and extend unequivocal solidarity. Palestinian people's right to health should be extended to them immediately.

Statement by PHM in #WHA74 @verboom pic.twitter.com/70Q4xG7Ggh

— PHM (@PHMglobal) May 26, 2021