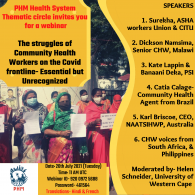 For those who may have missed the webinar, the recording of the webinar has been uploaded on PHM Youtube  channel here- https://youtu.be/K6CHtDXF3og
To read the report on the webinar, click here.
Presentation of CHW from Brazil with Spanish subtitles–here
____________________
Dear all
PHM Health Systems Thematic Circle cordially invites you to attend the webinar on "The struggles of Community Health Workers at the Covid frontline: Essential but Unrecognised".  Click here for the  concept note and webinar schedule.
Date: 20th July 2021 (Tuesday)
Time: 11 AM UTC/ 4:30 PM Indian/ 7 PM Manila/ 8 AM Rio de Janeiro/ 1 PM Cape Town
Zoom Link: https://zoom.us/j/92009725688?pwd=Q2J5azJydjAwTUZuUlhPRDAyaUhydz09
Speakers
Surekha (ASHA Workers Union, CITU, India)–How Covid-19 exacerbated challenges faced by ASHAs of the national government-run Community Health Worker programme
Dickson Namsima (Senior CHW, Malawi)-Issues faced by CHWs during Covid, mobilization and advocacy for CHW safety and working conditions
Catia Calage (Community Health Agent from Brazil)- Community Health Agents in the Brazil's Unified Health Systems (SUS)
Karl Briscoe (CEO, NAATSIHWP, Australia)-Lessons from the work of Australian Aboriginal Community Health Workers
KateLappin (Regional Secretary for Asia and Pacific Regional Office, PSI) & Banaani Deka (CHW campaign coordinator, PSI South Asia)- Gender and care work: Campaign demands and advocacy on CHWs
CHW speakers from PHM South Africa and Philippines.
Moderated by- Helen Schneider, University of Western Cape
We request you to please join us and share with your colleagues. Translation in Hindi and French will be provided.
Regards
FRANCAIS
Chers tous
Le cercle thématique du MPS sur les systèmes de santé vous invite cordialement à assister au webinaire sur "Les luttes des agents de santé communautaires en première ligne de Covid : Essentiel mais non reconnu". Cliquez ici pour consulter la note conceptuelle et le programme du webinaire.
Date : 20 juillet 2021 (mardi)
Heure : 11 h UTC/ 16 h 30 en Inde/ 19 h à Manille/ 8 h à Rio de Janeiro/ 13h au Cap
Zoom Link: https://zoom.us/j/92009725688?pwd=Q2J5azJydjAwTUZuUlhPRDAyaUhydz09

Haut-parleurs
Surekha (ASHA Workers Union, CITU, Inde) – Comment Covid-19 a exacerbé les défis auxquels sont confrontés les ASHA du programme national d'agents de santé communautaire géré par le gouvernement
 Dickson Namsima (ASC senior, Malawi)- Problèmes rencontrés par les ASC pendant Covid, mobilisation et plaidoyer pour la sécurité et les conditions de travail des ASC
Catia Calage (agent de santé communautaire du Brésil) – Agents de santé communautaire dans les systèmes de santé unifiés (SUS) du Brésil
Karl Briscoe (PDG, NAATSIHWP, Australie) – Leçons tirées du travail des agents de santé communautaires aborigènes australiens
Kate Lappin (Secrétaire régionale pour le bureau régional Asie et Pacifique, PSI) & Banaani Deka (coordinatrice de campagne ASC, PSI Asie du Sud)- Travail sur le genre et les soins : Demandes de campagne et plaidoyer sur les ASC
Intervenants ASC du MPS d'Afrique du Sud et des Philippines
Modéré par- Helen Schneider, Université de Western Cape
Nous vous demandons de vous joindre à nous et de partager avec vos collègues. Une traduction en hindi et en français sera fournie.

Salutations
ESPANOL
Estimados
El Círculo Temático de PHM Health Systems lo invita cordialmente a asistir al seminario web sobre "Las luchas de los trabajadores comunitarios de salud en la primera línea de Covid: Esencial pero no reconocido". Haga clic aquí para ver la nota conceptual y el calendario del seminario web.
Fecha: 20 de julio de 2021 (martes)
Hora: 11 AM UTC / 4:30 PM India / 7 PM Manila / 8 AM Rio de Janeiro / 1 PM Ciudad del Cabo
Zoom Link: https://zoom.us/j/92009725688?pwd=Q2J5azJydjAwTUZuUlhPRDAyaUhydz09
Altavoces
1. Surekha (Sindicato de Trabajadores de ASHA, CITU, India) – Cómo Covid-19 exacerbó los desafíos que enfrentan los ASHA del programa de Trabajadores de la Salud Comunitaria administrado por el gobierno nacional
2. Dickson Namsima (TSC senior, Malawi) – Problemas que enfrentan los TSC durante Covid, movilización y promoción de la seguridad y las condiciones de trabajo de los TSC
3. Catia Calage (Agente de salud comunitaria de Brasil) – Agentes comunitarios de salud en el Sistema Único de Salud (SUS) de Brasil
4. Karl Briscoe (director ejecutivo, NAATSIHWP, Australia): lecciones del trabajo de los trabajadores de la salud de la comunidad aborigen australiana
5. Kate Lappin (Secretaria Regional de la Oficina Regional de Asia y el Pacífico, ISP) y Banaani Deka (coordinadora de campaña de TSC, ISP en Asia del Sur) – Trabajo de género y cuidados: demandas de campaña y promoción de los TSC
6. Oradores de CHW de PHM Sudáfrica y Filipinas
Moderado por- Helen Schneider, Universidad de Western Cape
Le pedimos que se una a nosotros y comparta con sus colegas. Se proporcionará traducción en hindi y francés.
Saludos