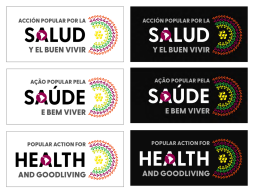 People's health Movement (PHM) LATAM delegates from Venezuela, Argentina, Paraguay, Guatemala, Colombia, Ecuador, Nicaragua, Perú, El Salvador, Brasil, Chile and Costa Rica, led by Román Vega, Global Coordinator of the PHM, will participate in the 13th Brazilian Congress of Collective Health organized by the Brazilian Association of Collective Health (Abrasco) and the Institute of Collective Health of the Federal University of Bahia (ISC/UFBA), from 19 till 25 November, 2022 in Salvador Bahia, Brazil.
"Health is Democracy: Diversity, Equity and Social Justice" is the theme of the event that will also bring together activists, academics, social leaders, researchers, students and health workers, as well as civil society organizations and social movements to discuss the situation and priorities of health systems in Latin America vis-à-vis the political agenda of the region.
"We are convinced that in unity, exchanging experiences, contributing ideas and knowledge, generating actions, with responsibility and commitment, we will be able to influence the political agenda to transform health systems in Latin America, so that they are universal, supportive and responsive systems. to the needs of citizens, and that they stop being instruments of neoliberalism for the benefit of people and communities, that is what we will discuss at the Abrasco Congress," said Roman Vega, Global Coordinator of the PHM upon his arrival in Brazil.
The PHM will hold the meeting for the transformation of health systems and will launch its campaign "Popular action for health and good living" as a convergence initiative that seeks to achieve this goal in the region.
At the event, the PHM will launch for Brazil the sixth edition of the Global Health Watch, a flagship publication of PHM  in which 120 authors from all over the world participated, analyzing the state of the right to health, extractivism, the environment and the situation of health workers, as well as the response of governments and health systems to face the pandemic.
The academic agenda of the Congress will address social and health inequalities, inequities, loss of rights, the weakening of public health systems, the challenges of governments and civil society in the face of primary health care and pandemics such as COVID 19 with local and global impact.
Also read: A Vital Conversation, an interview with Roman Vega on why ne need to transform health Systems in Latin America