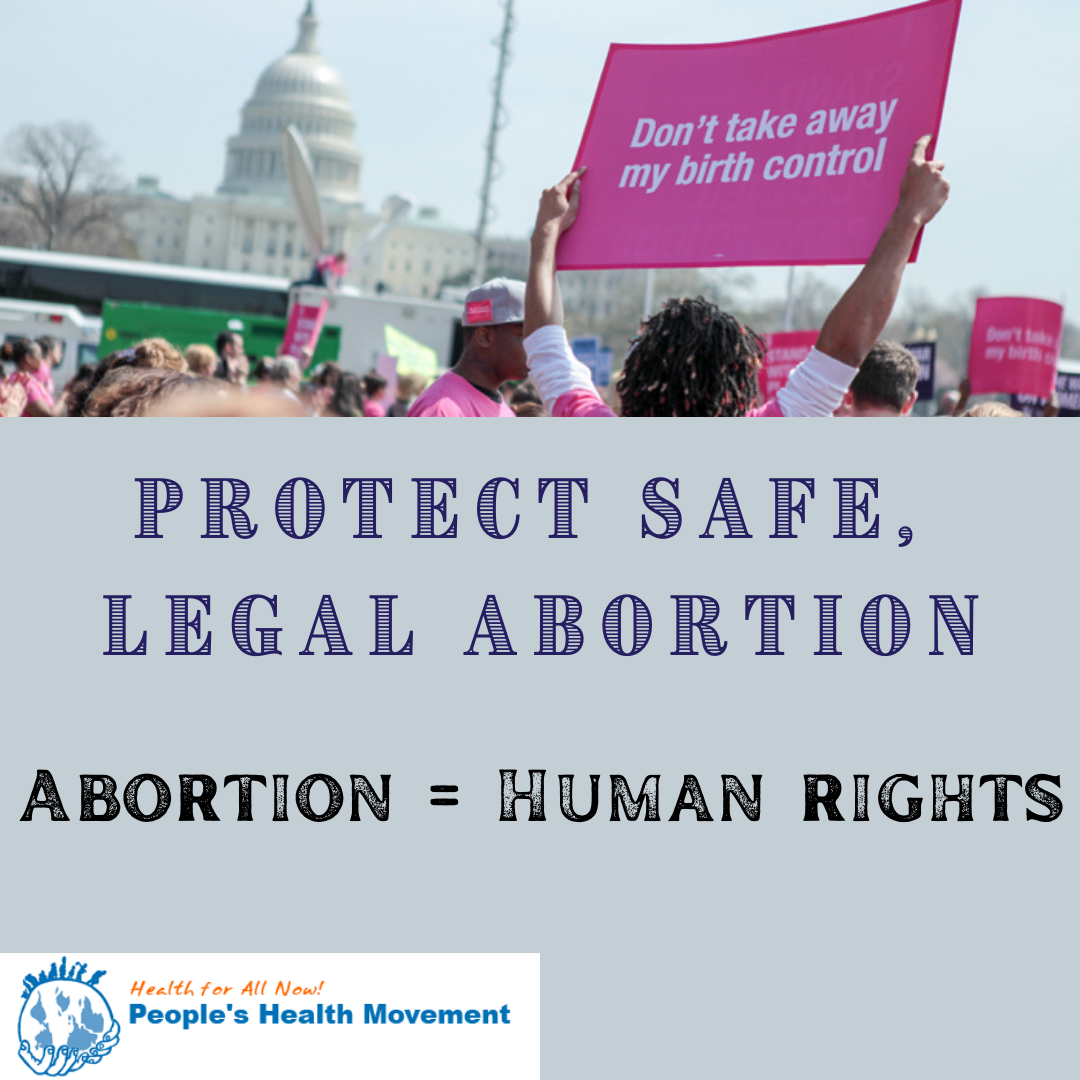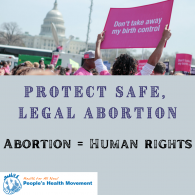 PHM strongly believes that universal access to safe, quality, legal abortion is a basic human right. We extend our solidarity and support to activists in the US working to prevent the Supreme Court from encroaching on this basic right to health, healthcare and reproductive justice. A leaked draft of the US Supreme Court reveals that the Court is poised to strike down the landmark 1973 Roe v. Wade as well as the 1992 Planned Parenthood v. Casey judgments that have guaranteed reproductive rights through abortion for decades. Striking down Roe vs Wade judgement will have a detrimental impact globally, on sexual and reproductive health and rights. Millions of women and young girls particularly the marginalized, racialized, women of colour, Indigenous, poor, immigrant women, LBTQ persons may lose access to safe and legal abortions - resulting in thousands of deaths due to 'backstreet' abortions. PHM calls on the US Supreme Court and legal experts to align themselves with basic human rights and freedoms by protecting reproductive justice through access to safe, legal abortion throughout the United States. We further call upon the US President and Congress, state governors and legislatures, federal and state courts, human rights defenders and American civil society to stand against this reversal of human rights and encroachment on individual liberty and bodily autonomy.
Read the entire statement here.
MSP cree firmemente que el acceso universal al aborto legal, seguro y de calidad es un derecho humano básico. Extendemos nuestra solidaridad y apoyo a lXs activistas de Estados Unidos que trabajan para evitar que el Tribunal Supremo invada este derecho básico a la salud, la asistencia sanitaria y la justicia reproductiva. Un borrador filtrado del Tribunal Supremo de Estados Unidos revela que el Tribunal está dispuesto a anular la histórica sentencia Roe contra Wade de 1973, así como la sentencia Planned Parenthood contra Casey de 1992, que han garantizado los derechos reproductivos a través del acceso al aborto durante décadas. La anulación de la sentencia Roe vs Wade tendrá un impacto perjudicial a nivel mundial, sobre la salud y los derechos sexuales y reproductivos. Millones de mujeres y niñas, en particular las marginadas, racializadas, las mujeres de color, las indígenas, las pobres, las inmigrantes y las personas LBTQ, podrían perder el acceso a abortos seguros y legales, lo que provocaría miles de muertes por abortos "clandestinos". MSP hace un llamamiento a la Corte Suprema de Estados Unidos y a los expertos legales para que se alineen con los derechos humanos y las libertades básicas protegiendo la justicia reproductiva a través del acceso al aborto seguro y legal en todo Estados Unidos. Además, hacemos un llamamiento al Presidente y al Congreso de los Estados Unidos, a lxs gobernadores y legisladorxs estatales, a los tribunales federales y estatales, a lxs defensorxs de los derechos humanos y a la sociedad civil estadounidense para que se opongan a este retroceso de los derechos humanos y a la invasión de la libertad individual y la autonomía corporal.
Lea la declaración completa aquí.