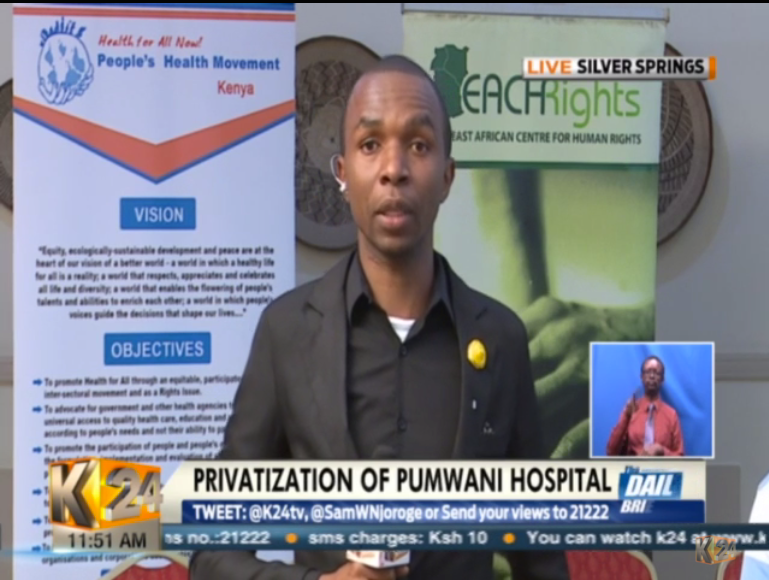 PHM Kenya held a press conference on 5 October at Silver Springs Hotel, Nairobi, to highlight the gaps in information about the crisis at Pumwani Maternity Hospital. We emphasized that this crisis demonstrates long-standing weaknesses across the health system and that civil society engagement is critical for a lasting solution, particularly in the discussions about privatization of health care, which can undermine health equity. Our panel presentation was televised on KTN and K24 news shows, in addition to Jata TV and other stations, as well as carried in radio and print. Additionally, a live interview was conducted by K24 (see the screen grab below).
K24's reporter, Lenox Sengre, live from Silver Springs Hotel provides an update on the issue of privatization of Pumwani Maternity Hospital where the People's Health Movement (Kenya) issued its press briefing.
You can watch videos of the press conference on YouTube,
here
and on
PHM Kenya's Facebook page
. Be sure to subscribe to the PHM Kenya channel on YouTube, here: 
https://www.youtube.com/channel/UC6FHvL7kcU32ui_G-eJrnYg/videos
, as we will post more videos there too. Just search for "PHM Kenya" in YouTube and click 'subscribe'. Our next step is to bring community voices to the debate around the failures at Pumwani Maternity Hospital – watch for another press conference this month. Those interested in contributing and joining should respond quickly!