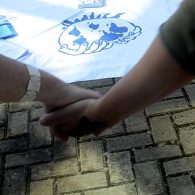 The People's Health Movement (PHM) Global and PHM Europe stand in solidarity with health, care, and  social workers in France, as well as with the local health and social justice movements, as they continue  to fight against an extremely dangerous pension reform proposed by the Macron government. Our  solidarity extends to everyone who will be affected by the reform: workers, students, the retired and the  unemployed, and others. We also support the calls for salary increases and human and financial  resources to meet the needs of the people. The mobilizations that we have witnessed happening all over  France over the course of the past few weeks come as an inspiration as health workers and activists  across the world brace themselves for new attacks on public health care systems and social protection as  a whole.
Like in other countries, health workers in France – nurses, physicians, laboratory technicians, informal  carers, and others – continue to shoulder the burden of the COVID-19 pandemic and its aftermath. They  do so following decades of budget cuts and other neoliberal reforms, which have depleted their  workplaces, reduced the resources available for their work, and undermined their working rights and well
being. Women and migrant workers in the health, care, and social sectors are particularly hit by the  effects of the pandemic, and it is to be expected that they will be those most exposed to further harm if  new neoliberal reforms are introduced.
Because of this, it is particularly inspirational to see health workers and activists march side by side with  people in other sectors, protesting a reform which will harm everyone. By opposing the pension reform,  health workers are not only standing up for themselves: they are fighting for the chance to fulfill the  promise of health for all. And health for all, as we are all aware, includes the right to safe workplaces,  decent working conditions, fair pensions, and protection from workplace-related issues, in addition to  adequately funded, strong public health systems.
The extent of the popular and workers' actions in France over the past weeks have shown that the people  in Europe echo the call for Health for All that has been growing louder in the Global South, a call that  PHM has upheld since its establishment more than twenty years ago. We send our sincere support and  solidarity to all health and care workers, as well as platforms dedicated to the protection of the right to  health and social justice, and we remain convinced you will win in your efforts.
---
Version Française
People's Health Movement solidaire des travailleuses et travailleurs de la santé et des militants en  France
Mouvement Populaire pour la Santé MPS (PHM) Global et MPS Europe affirment leur solidarité avec les travailleuses et  travailleurs de la santé, les soignantes et soignants et les travailleuses et travailleurs sociaux en France,  ainsi qu'avec les comités de lutte et mouvements locaux de santé et de justice sociale, qui continuent de  lutter contre une réforme des retraites extrêmement dangereuse proposée par le gouvernement Macron.  Notre solidarité s'étend à tous ceux qui seront touchés par la réforme : travailleurs, étudiants, retraités et  chômeurs, et autres. Nous soutenons également les demandes d'augmentation de salaire et de  ressources humaines et financières pour répondre aux besoins de la population. Les mobilisations  auxquelles nous avons assisté partout en France au cours des dernières semaines sont une source  d'inspiration alors que les travailleuses et travailleurs de la santé et les militantes et militants du monde  entier se préparent à de nouvelles attaques contre les systèmes de santé publique et la protection sociale  dans son ensemble.
Comme dans d'autres pays, les travailleuses et travailleurs de la santé en France – infirmières, médecins,  techniciens de laboratoire, aidantes et aidants familiaux et autres – continuent d'assumer le fardeau de la  pandémie de COVID-19 et de ses conséquences. Ils le font après des décennies de coupes budgétaires  et d'autres réformes néolibérales, qui ont appauvri leurs lieux de travail, réduit les ressources disponibles  pour leur travail et sapé leurs droits et leur bien-être au travail. Les femmes et les travailleurs migrants  des secteurs de la santé, des soins et des services sociaux sont particulièrement touchés par les effets  de la pandémie, et il faut s'attendre à ce qu'ils soient les plus exposés à d'autres préjudices si de  nouvelles réformes néolibérales sont introduites.
C'est pourquoi il est particulièrement stimulant de voir les travailleuses et travailleurs de la santé, de  l'action sociale, et les militantes et militants défiler côte à côte avec des personnes d'autres secteurs pour  protester contre une réforme qui nuira à tous. En s'opposant à la réforme des pensions, les travailleurs de  la santé et de l'action sociale ne se contentent pas de se défendre : ils se battent pour avoir la possibilité  de tenir la promesse de la santé pour tous. Et la santé pour tous, comme nous le savons tous, inclut le  droit à des lieux de travail sûrs, à des conditions de travail décentes, à des pensions équitables et à une  protection contre les problèmes liés au lieu de travail, en plus de systèmes de santé publique solides et  financés de manière adéquate.
L'ampleur des actions populaires et des actions des travailleurs en France au cours des dernières  semaines a montré que les peuples d'Europe font écho à l'appel à la santé pour tous qui se fait de plus  en plus entendre dans le monde du Sud, un appel que MPS a soutenu depuis sa création il y a plus de  vingt ans. Nous envoyons notre soutien sincère et notre solidarité à tous les travailleuses et travailleurs  de la santé et des soins, de l'action sociale ainsi qu'aux plateformes dédiées à la protection du droit à la  santé et à la justice sociale, et nous restons convaincus que vos efforts seront couronnés de succès.
---
Versión en español
El Movimiento por la Salud de los Pueblos se solidariza con los y las trabajadoras de la salud y  los activistas en Francia
El Movimiento por la Salud de los Pueblos (MSP) Global y el MSP Europa se solidarizan con los y las  trabajadores de la salud, los asistentes y los trabajadores sociales en Francia, así como con los  movimientos locales por la salud y la justicia social, mientras continúan luchando contra una reforma de  las pensiones extremadamente peligrosa propuesta por el gobierno de Macron. También apoyamos las  peticiones de aumentos salariales y recursos humanos y financieros para satisfacer las necesidades de  la gente. Las movilizaciones que hemos presenciado en toda Francia en el transcurso de las últimas  semanas sirven de inspiración, ya que los trabajadores sanitarios y los activistas de todo el mundo se  preparan para nuevos ataques contra los sistemas públicos de atención sanitaria y la protección social en  su conjunto.
Como en otros países, los trabajadores sanitarios de Francia -enfermeras, médicas, técnicas de  laboratorio, cuidadoras informales y otros- siguen soportando la carga de la pandemia de COVID-19 y  sus secuelas. Lo hacen tras décadas de recortes presupuestarios y otras reformas neoliberales, que han  esquilmado sus lugares de trabajo, reducido los recursos disponibles para su labor y socavado sus  derechos laborales y su bienestar. Las mujeres y los trabajadores inmigrantes de los sectores sanitario,  asistencial y social se ven especialmente afectados por los efectos de la pandemia, y es de esperar que  sean los más expuestos a nuevos perjuicios si se introducen nuevas reformas neoliberales.
Por ello, resulta especialmente inspirador ver a trabajadores y activistas sanitarios marchar codo con  codo con personas de otros sectores, protestando contra una reforma que perjudicará a todos. Al  oponerse a la reforma de las pensiones, los y las trabajadores de la salud no sólo se están defendiendo a  sí mismos: están luchando por la oportunidad de cumplir la promesa de una sanidad para todos. Y la  salud para todos, como todos sabemos, incluye el derecho a lugares de trabajo seguros, condiciones  laborales dignas, pensiones justas y protección frente a los problemas relacionados con el lugar de  trabajo, además de unos sistemas sanitarios públicos sólidos y adecuadamente financiados.
El alcance de las acciones populares y de los trabajadores en Francia durante las últimas semanas ha  demostrado que la población europea se hace eco del llamamiento en favor de la Salud para Todos que  se ha hecho cada vez más fuerte en el Sur Global, un llamamiento que MSP ha mantenido desde su  creación hace más de veinte años. Enviamos nuestro sincero apoyo y solidaridad a todos los  trabajadores y trabajadoras de la salud y la asistencia, así como a las plataformas dedicadas a la  protección del derecho a la salud y la justicia social, y seguimos convencidos de que venceréis en  vuestros esfuerzos.