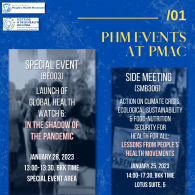 PHM is going to organise two interesting sessions during the upcoming PMAC. We invite you to attend these sessions and share your insights about the topics.
1. Side Meeting (SMB306)
Panel discussion on Action on climate crisis, ecological sustainability and food-nutrition security for Health For All: Lessons from people's health movements
Date: 
25 January 2023
Time: 
14:00 – 17:30 hrs. BKK time
Venue: Lotus Suite 5
Introduction: Roman Vega
Keynote: Vivian Camacho
Moderator: Sulakshana Nandi
Interactive panel discussion: Erika Arteaga, Rhiannon Osborne, Paul Laris and Marcos Filardi 
Introduction to GHW6: 
Sarojini N
Summing up and call to action: 
Peninah Khisa and Carmen Baez
Please register here to attend the Side Meeting: https://pmac2023.com/sidemeeting. If you are a registered PMAC participant, use your conference username and password provided in the official PMAC invitation letter email to reserve your seats.

2. Special Event (BE003)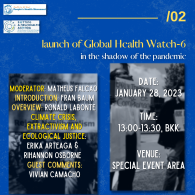 Date: 
28 January 2023
Time: 
13:20 – 13:40 hrs.
BKK time
Venue: Special Events Area
We have entered the third consecutive year of the worst pandemic in a century. The misery and devastation caused in the last two years has rattled most of us, although the virus is not solely to blame. Drug companies' greed, health system privatization, weakened global governance, and the inadequacy of public health systems – all contributed to people's suffering. Some of the world's richest nations neglected the health rights of poorer countries to access vaccines, medicines, and other COVID-19 medical tools. Increases in already high levels of global inequality and injustice characterized the pandemic response. Global Health Watch 6 (GHW6) examines these issues through a political-economic lens, showing connections between the social, economic, political, commercial and environmental determinants of health and the structure of global power relations and economic governance. Similar analysis has been the strength of previous editions, and the GHW series has been hailed across the world for that reason. Importantly, as with previous editions, GHW6 describes and emphasizes the importance of people's ongoing struggles towards the goal of "Health for All." The narratives of resistance and social movement activism are spread throughout the book and set it apart from other writing in this field. The book reflects on what these interwoven stories of hope and change mean for a progressive, post-pandemic health activism.
Moderator: Matheus Falcao
Introduction: Fran Baum
Overview of GHW 6: Ron Labonte
Focus on climate crisis, extractivism and ecological justice: Erika Arteaga and Rihannon Osborne
Guest comments: Vivian Camacho