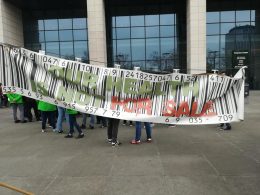 On April 2nd, a PHM Europe group participated in the demonstration and conference "Our Health is Not for Sale!" that took place in Brussels, organized by European Network Against the Commercialization and Privatization of Health and Social Protection. Activists from PHM groups in Belgium, Italy, Croatia and France joined both events, along with members of the Plate-form for Action on Health and Solidarity, Marea Blanca from Spain, local networks part of the Dico32 campaign from Italy and various trade unions and worker and patient collectifs from Belgium, France and the Netherlands, as well as networks of health centers from Belgium.
The demonstration was attended by approximately 1000 people, and had some media coverage (RTBF, La Première, Knack, Metro, 7sur7, DHnet, Medicina Democratica and Marea Blanca). It started from the location of the Belgian Ministry of Health, pointing out the very significant role that the Minister has played in the weakening of the health system by focusing on austerity measures, and concluded in front of the European Parliament, where the protesters were joined by members and candidates for the EP ready to express their support of the pledge European Network had put forward.
A conference supported by the European Greens took place shortly after the end of the demonstration inside the EP, where representatives of trade unions, health networks and academia reflected on the consequences of commercialization of social protection on the accessibility and quality of health care and presented various concrete demands towards the European institutions to ensure that the entire population, whatever their geographical area, has access to accessible, reliable, high-quality, non-commercial and democratic local services financed by a system of solidarity. Sabina Stan from Dublin University had a very interesting presentation on the links between the European Semester and health policy in Europe, and several health activists from different countries talked about the different forms commercialization of health has taken in different regions. PHM Europe also participated in the conference with an intervention on social determinants of health and the importance of "health in all policies" approach.
After the conference, participants from PHM Europe joined the European Health Network Against Commercialization of Health and Social Protection and other participants at an informal meeting to talk about future plans and activities.
Next to echoing what's happening locally in Europe through the reinforcement of local actions and resistance, the European Network is planning to pursue it's work towards the European Parliament and European Institutions for the coming year. It promised the MEPs during the Manifestation and Conference that it will be vigilant and more closely follow up the commitment that are being taken. A meeting will most probably be organized between the members of the European Network and political representatives in Brussels in September/October 2019.  
Photos of the day can be found here: https://www.flickr.com/photos/[email protected]/sets/72157706345493661/
The central event on April 2nd was part of this year's week of action against the commercialization of health care, lasting until April 7th. An interactive map of actions taking place all over the world is available here: https://www.google.com/maps/d/u/0/edit?mid=1z6orSt5lmfeh3eTFrqevIYTw-rVwCk6c&ll=44.03526799892898%2C8.873252899999898&z=4