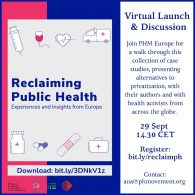 Access to health services is a key determinant of health and necessary to realize the right to health for all. However, across Europe governments increasingly fail to ensure that everyone has access to health care through strong public health systems which the population may readily use. Health care systems struggle to retain their public nature, and diminished access to health services contributes to health inequities, the heavier burden often borne by the most vulnerable communities. We have experienced the effects of such policies during the Covid-19 pandemic, when many health systems in Europe struggled to keep pace with the pressure of the infection.
However, privatization of health is not the only trend going on. For the past years, there has been an increasing number of people standing up to pro-privatization policies all over the region. To shed more light on the alternatives that these initiatives have developed, PHM Europe has conducted a series of case studies, covering examples from Belgium, Croatia, Slovakia, and Sweden.
Join us for the launch of collection of these case studies and discussion on people's initiatives for universal health systems in Europe.
"Reclaiming Public Health: Experiences and Insights from Europe"
Date: Wednesday, 29 September
Time: 2.30pm CET
Register at: bit.ly/reclaimph
Introductions by:
Desiree Enlund, Department of Thematic Studies, Linköping University
Dominika Gornalova, Comenius University in Bratislava, Slovakia
Sofie Blancke, Médecine pour le Peuple, Belgium
Representative of PHM Croatia
Moderated by:
Leigh Haynes and Ana Vračar
Download the publication here: https://phmovement.org/resistance_to_privatisation/