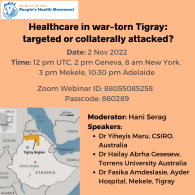 People's Health Movement (PHM) cordially invites you for the webinar "Healthcare in war-torn Tigray: targeted or collaterally attacked?", organized by the PHM Tigray circle and the thematic PHM War and Conflict, Occupation, Forced Migration circle.
This 'hidden' war is raging on for almost 2 years now, on November 4 it will be the 2nd anniversary, and the impact on the Tigrayan people is disastrous. The webinar will specifically zoom in on the impact of the ongoing war and siege on healthcare and health workers in the Tigray region. It is part of the PHM campaign to enhance the visibility of this humanitarian crisis, and to draw attention to the extreme repression that healthcare workers in Tigray are facing. The Tigray case is part of the new online gallery PHM is building to highlight cases of repression against health workers worldwide.
Date and time: November 2, 2022, at 12 pm UTC / 3 pm EAT / 2 pm Geneva / 8 am New York / 10.30 pm Adelaide.
Please register here: https://us06web.zoom.us/webinar/register/WN_f-3Ewm9RRHKHq4xguk-dtw
Speakers:
• Dr Yiheyis Maru, CSIRO, Australia
• Dr Hailay Abrha Gesesew, Torrens University Australia
• Dr Fasika Amdeslasie, Ayder Hospital, Mekele, Tigray
Moderator: Hani Serag
The webinar will be in English language. Hope to see you there!
Warm regards,
PHM Tigray and PHM War, Conflict, Occupation and Forced Migration circle