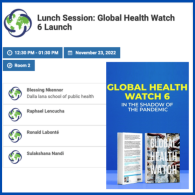 Global Health Watch 6 (GHW6) examines critical health issues through a political-economic lens, showing connections between the social, economic, political, commercial and environmental determinants of health and the structure of global power relations and economic governance. Similar analysis has been the strength of previous editions, and the GHW series has been hailed across the world for that reason.
The book is being launched during the Canadian Conference on Global Health.
Speakers:
Blessing Nkennor
Raphael Lencucha
Ronald Labonte
Sulakshana Nandi
For more details, click here.