Special Event (BE003) at 

Prince Mahidol Award Conference in Bangkok, Thailand

Date: 

28 January 2023

Time: 

13:20 – 13:40 hrs.

BKK time

Venue: Special Events Area

Moderator: 

Matheus Falcao

Introduction: Fran Baum
Overview of GHW 6: Ron Labonte

Focus on climate crisis, extractivism and ecological justice: Erika Arteaga and Rihannon Osborne
Guest comments: Vivian Camacho

23 November, 2022: Physical launch in Toronto, Canada during Canadian Conference on Global Health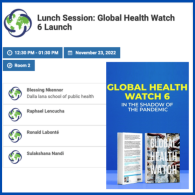 Speakers:
Blessing Nkennor
Raphael Lencucha
Ronald Labonte
Sulakshana Nandi
Details here: https://pheedloop.com/ccgh2022/site/sessions/?id=SES2UXQZOI4PCDYG7
2. 22 November, 2022: Physical launch in Brazil
Details here:  https://saudecoletiva.org.br/programacao/index_programado.php#2022-11-22 (session is at 15.00, title is SE07 – SAÚDE GLOBAL NAS SOMBRAS DA PANDEMIA DE COVID-19)
3. 22 November, 2022: Physical launch in Colombo, Sri Lanka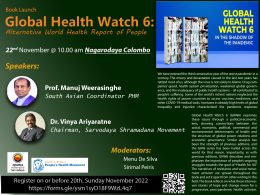 Date: 22nd November
Time: 10.00 am
Venue: Nagarodaya Center, Colombo
Speakers:
Prof. Manuj Weerasinghe, South Asian Coordinator, PHM
Dr. Vinya Ariyaratne, Chairman, Sarvodaya Shramdana Movement
Moderators:
Menu De Silva
Srimal Peiris
4. 22 September, 2022: Physical launch in Adelaide, Australia

Time: 1pm -1.30pm
Venue: Halls F & G, Adelaide Convention Centre, Adelaide
Chair: Fran Baum, Advisory Council member, People's Health Movement
Speakers:
Deb Gleeson, Associate Professor, La Trobe University, Melbourne
Sharon Friel, Director, Planetary Health Equity Hothouse, Australian National University
Copies of the book will be on sale.
5. 27 April, 2022: Physical and Virtual (hybrid) Launch in Madrid, Spain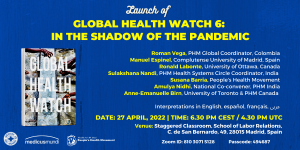 Time: 6.30 PM CEST / 4.30 PM UTC
Venue: Staggered Classroom, School of Labor Relations, C. de San Bernardo, 49, 28015 Madrid, Spain
Interpretations in English, español, français, عربى
Panel
Roman Vega, Global Coordinator of PHM, Colombia
Manuel Espinel, Professor of Sociology, Complutense University of Madrid, Spain
Ronald Labonte, Professor, School of Epidemiology and Public Health, University of Ottawa and GHW6 co-editor, Canada
Sulakshana Nandi, Health Researcher & PHM health systems circle co-coordinator, India
Susana Barria, People's Health Movement
Amulya Nidhi,National co-convenor, PHM India, India
Anne-Emanuelle Birn, Professor of Global Development Studies, University of Toronto & PHM Canada
You can watch video recording of the event here: English español français عربى
6. 24 May, 2022: Physical Launch in Geneva, Switzerland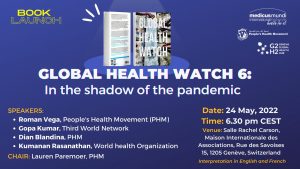 Time: 6.30 PM CEST
Venue: Zazi Sadou, Maison Internationale des Associations,
Rue des Savoises 15, 1205 Genève, Switzerland
Interpretation in English and French
Speakers:
Roman Vega, People's Health Movement (PHM)
K M Gopakumar, Third World Network
Dian Blandina, PHM
Kumanan Rasanathan, World Health Organisation
Chair: Lauren Paremoer, PHM
7. 30 May, 2022: Virtual launch organised by PHM UK, Health Poverty Action and MedAct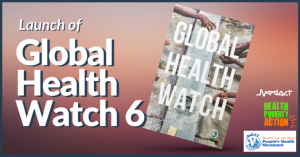 Time: 7 PM – 8:30 PM BST
Speakers:
Dr Chiara Bodini, co-editor of GHW
Members of the Medact Research Network: Roman Gnaegi, Catia Confortini and Michael Orgel
Dr Annabel Sowemimo, sexual and reproductive health doctor and founder of Decolonising Contraception
Dr Lauren Paremoer, senior lecturer in the Political Studies Department at the University of Cape Town and member of PHM South Africa
Rhiannon Osborne, medical student, organiser with Health for a Green New Deal and Stop Cambo, and member of People's Health Movement UK
8. 31 May, 2022: Virtual launch by PHM Australia, Menzies Centre for Health Governance and RegNet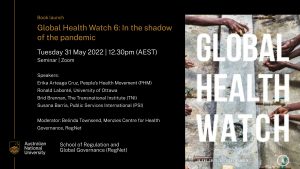 Time: 12.30 PM AEST
Speakers:
Erika Arteaga Cruz, Co-coordinator, Ecosystem and Health circle of PHM and member, Latinamerican Social Medicine Association.
Ronald Labonté,Distinguished Research Chair in Globalization and Health Equity; and Professor in the School of Public Health and Epidemiology, University of Ottawa.
Brid Brennan, Co-ordinator, Corporate Power Project at The Transnational Institute (

TNI

) within the Economic Justice Programme
Susana Barria, researcher and campaigner on issues of health equity and economic justice. She is the Health Equity Coordinator at Public Services International (PSI)
Moderator: Belinda Townsend, Deputy Directory of the Menzies Centre for Health Governance and Fellow at RegNet, Australian National University (ANU)