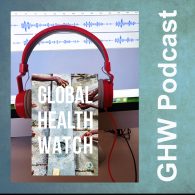 The final episode of the GHW6 podcast series features Remco Van de Pas and Sulakshana Nandi, two long-standing PHM members who are very active in PHM's thematic circle on health systems. They provide an up-to-date analysis of the global state of the debates around Universal Health Coverage (UHC) and Primary Health Care (PHC), finding that UHC is everywhere and PHC has become stuck in the margins. Also, they warn against the market rhetoric that suffuses health systems reform, together with the rising global policy discourse on engaging with the private health sector. The UHC focus on financing and its agnosticism over any downside to increasing the role of private providers (but always with a backstop of state funding support) has led to less than impressive or health equitable UHC implementation. The health future must be public; but it is the activist public that needs to make it so.
---
#GHWpodcast Episodio 7. La brecha entre cobertura universal en salud y atención primaria en salud
El último episodio de la serie de podcasts GHW6 cuenta con Remco Van de Pas y Sulakshana Nandi, dos antiguos miembros de la MSP muy activos en el círculo temático de la MSP sobre sistemas sanitarios. Ofrecen un análisis actualizado del estado global de los debates en torno a la Cobertura Sanitaria Universal (CSU) y la Atención Primaria de Salud (APS), constatando que la CSU está en todas partes y la APS se ha quedado estancada en los márgenes. Asimismo, advierten contra la retórica de mercado que impregna la reforma de los sistemas sanitarios, junto con el creciente discurso político mundial sobre la colaboración con el sector sanitario privado. El hecho de que la cobertura sanitaria universal se centre en la financiación y su agnosticismo con respecto a las desventajas de aumentar el papel de los proveedores privados (pero siempre con el respaldo de la financiación estatal) ha conducido a una implantación de la cobertura sanitaria universal menos impresionante o equitativa desde el punto de vista sanitario. El futuro de la sanidad debe ser público, pero es el público activista el que debe conseguirlo.
---
#GHWpodcast Épisode 7. Le fossé entre la couverture maladie universelle et les soins de santé primaires
Le dernier épisode de la série de podcasts de la GHW6 présente Remco Van de Pas et Sulakshana Nandi, deux membres de longue date de MPS qui sont très actifs dans le cercle thématique de MPS sur les systèmes de santé. Ils fournissent une analyse actualisée de l'état global des débats autour de la couverture sanitaire universelle (CSU) et des soins de santé primaires (SSP), constatant que la CSU est partout et que les SSP sont restés en marge. Ils mettent également en garde contre la rhétorique du marché qui imprègne la réforme des systèmes de santé, ainsi que contre le discours politique mondial croissant sur l'engagement avec le secteur privé de la santé. L'accent mis par le CHU sur le financement et son agnosticisme à l'égard de tout inconvénient lié à l'accroissement du rôle des prestataires privés (mais toujours avec un soutien financier de l'État) ont conduit à une mise en œuvre du CHU peu impressionnante ou peu équitable sur le plan sanitaire. L'avenir de la santé doit être public, mais c'est le public activiste qui doit le faire.
---