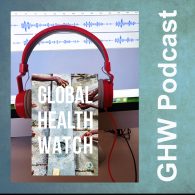 The sixth episode of the GHW6 podcast series features Lauren Paremoer and Ronald Labonté, addressing the issue of new trade treaties and their potential threats to public health. Showing concrete examples, they show how these treaties tighten reins on policy measures governments might take that could inhibit trade, with new rules on how future regulations should be developed, including allowing or even mandating the involvement of corporate actors from other countries. Moreover, they explain how international investment treaties have become one of the most predatory forms of financialized capitalism, with speculative investors, corporate law firms, and transnational companies holding governments (and the people they represent) hostage to vaguely worded treaty rules and secretive tribunal proceedings. There are however windows of opportunity in health's ability to influence trade and investment treaty negotiations.
---
Versión en español
#GHWpodcast Episodio 6 Comercio y Salud
En el sexto episodio de la serie de podcasts GHW6, Lauren Paremoer y Ronald Labonté abordan la cuestión de los nuevos tratados comerciales y sus posibles amenazas para la salud pública. Con ejemplos concretos, muestran cómo estos tratados estrechan las riendas de las medidas políticas que los gobiernos pueden adoptar y que podrían inhibir el comercio, con nuevas normas sobre cómo deben elaborarse las futuras normativas, incluso permitiendo o exigiendo la participación de agentes empresariales de otros países. Además, explican cómo los tratados internacionales de inversión se han convertido en una de las formas más depredadoras del capitalismo financiarizado, con inversores especulativos, bufetes de abogados y empresas transnacionales que mantienen a los gobiernos (y a las personas a las que representan) como rehenes de las normas vagamente redactadas de los tratados y de los procedimientos secretos de los tribunales. Sin embargo, existen oportunidades para que la salud influya en las negociaciones de los tratados de comercio e inversión.
---
Version Française
#GHWpodcast Épisode 6 : commerce et santé
Dans le sixième épisode de la série de podcasts GHW6, Lauren Paremoer et Ronald Labonté abordent la question des nouveaux traités commerciaux et leurs menaces potentielles pour la santé publique. À l'aide d'exemples concrets, ils montrent comment ces traités resserrent les rênes sur les mesures politiques que les gouvernements pourraient prendre et qui pourraient entraver le commerce, avec de nouvelles règles sur la manière dont les futures réglementations devraient être élaborées, y compris en autorisant, voire en rendant obligatoire, la participation d'entreprises d'autres pays. En outre, ils expliquent comment les traités internationaux d'investissement sont devenus l'une des formes les plus prédatrices du capitalisme financiarisé, avec des investisseurs spéculatifs, des cabinets d'avocats d'affaires et des sociétés transnationales qui tiennent les gouvernements (et les personnes qu'ils représentent) en otage de règles de traité vaguement formulées et de procédures de tribunal secrètes. Il existe cependant des fenêtres d'opportunité dans la capacité de la santé à influencer les négociations des traités de commerce et d'investissement.
---