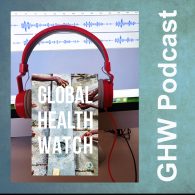 On our fifth episode of the GHW6 podcast series features Charlotte Dreger from FIAN International, a global human rights organization that advocates for the right to adequate food and nutrition, Magdalena Ackermann from the  Society for Internationmal Development (SID), and Isabel Álvarez Vispo, Co-president of Urgenci, an international grassroot network of all forms of regional and Local Solidarity-based Partnerships for Agroecology. The chapter they contributed for GHW6 explores the structural flaws of the global food system, which pollutes, consolidates control in a few oligopolies, and ravages the land needed for production, while failing to meet the world's need for healthy and nutritious food. The dominant agro-industrial model is contrasted with agroecological alternatives that have persisted despite the ongoing corporatization of agriculture. Considerable evidence demonstrates agroecology's capacity to meet both human food needs and planetary sustainability.
---
#GHWpodcast Episodio 5 Seguridad alimentaria
En nuestro quinto episodio de la serie de podcasts GHW6 presentamos a Charlotte Dreger, de FIAN International, una organización mundial de derechos humanos que defiende el derecho a una alimentación adecuada y a la nutrición, Magdalena Ackermann, de la Society for Internationmal Development (SID), e Isabel Álvarez Vispo, Copresidenta de Urgenci, una red internacional de base de todas las formas de Asociaciones Solidarias Regionales y Locales para la Agroecología. El capítulo con el que contribuyeron al GHW6 explora los defectos estructurales del sistema alimentario mundial, que contamina, consolida el control en unos pocos oligopolios y arrasa la tierra necesaria para la producción, al tiempo que no logra satisfacer la necesidad mundial de alimentos sanos y nutritivos. El modelo agroindustrial dominante se contrasta con las alternativas agroecológicas que han persistido a pesar de la continua corporativización de la agricultura. Numerosas pruebas demuestran la capacidad de la agroecología para satisfacer tanto las necesidades alimentarias humanas como la sostenibilidad planetaria.
---
#GSWpodcast Épisode 5 Sécurité alimentaire
Dans notre cinquième épisode de la série de podcasts GHW6, nous recevons Charlotte Dreger de FIAN International, une organisation mondiale des droits de l'homme qui défend le droit à une alimentation et à une nutrition adéquates, Magdalena Ackermann de la Society for Internationmal Development (SID), et Isabel Álvarez Vispo, coprésidente d'Urgenci, un réseau international de base regroupant toutes les formes de partenariats solidaires régionaux et locaux pour l'agroécologie. Le chapitre qu'ils ont rédigé pour la sixième conférence mondiale sur l'alimentation explore les failles structurelles du système alimentaire mondial, qui pollue, consolide le contrôle au profit de quelques oligopoles et ravage les terres nécessaires à la production, tout en ne répondant pas aux besoins mondiaux en aliments sains et nutritifs. Le modèle agro-industriel dominant est opposé aux alternatives agro-écologiques qui ont persisté malgré la corporatisation continue de l'agriculture. Des preuves considérables démontrent la capacité de l'agroécologie à répondre à la fois aux besoins alimentaires de l'homme et à la durabilité planétaire.
---
#GHWpodcast الحلقة 5 سلامة الغذاء