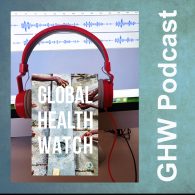 The fourth episode of the GHW6 podcast series features Roman Gnagi and Catia Confortini, members of Medact, a UK-based organization affiliated with PHM and co-producer of the Global Health Watch series. Together with other Medact members, they wrote a chapter in Global Health Watch 6 analyzing the relations between war, conflict, peace, and health, and the impact of Covid-19 in countries affected by conflict.
This podcast episode illustrates the concept of positive peace and its relation with the social determinants of health and health promotion, to then analyze the different approaches to peacebuilding and the role that health activists and health workers can play.
---
#GHWpodcast Episodio 4: Paz y salud
El cuarto episodio de la serie de podcasts GHW6 cuenta con Roman Gnagi y Catia Confortini, miembros de Medact, organización con sede en el Reino Unido afiliada al MSP y coproductora de la serie del Observatorio Global de Salud (Global Health Watch GHW en inglés). Junto con otros miembros de Medact, escribieron un capítulo de la sexta edición del libro que analiza las relaciones entre guerra, conflicto, paz y salud, y el impacto de Covid-19 en los países afectados por conflictos.
Este episodio del podcast ilustra el concepto de paz positiva y su relación con los determinantes sociales de la salud y la promoción de la salud, para analizar a continuación los distintos enfoques de la consolidación de la paz y el papel que pueden desempeñar los activistas y trabajadores de la salud.
---
#GHWpodcast Épisode 4 : Paix et santé
Le quatrième épisode de la série de podcasts GHW6 présente Roman Gnagi et Catia Confortini, membres de Medact, une organisation basée au Royaume-Uni affiliée à MPS et coproductrice de la série Global Health Watch. Avec d'autres membres de Medact, ils ont rédigé un chapitre de Global Health Watch 6 analysant les relations entre la guerre, les conflits, la paix et la santé, ainsi que l'impact de Covid-19 dans les pays touchés par des conflits.
Cet épisode de podcast illustre le concept de paix positive et sa relation avec les déterminants sociaux de la santé et la promotion de la santé, pour ensuite analyser les différentes approches de la consolidation de la paix et le rôle que peuvent jouer les militants et les travailleurs de la santé.
---