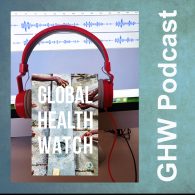 Featuring Ronald Labonté, a global health expert and co-editor of GHW6, this episode explores the global political and economic architecture and its structural role in shaping health determinants worldwide. It also analyzes the (unequal) impact of the Covid-19 pandemic and sheds light on the possible routes for a healthier, more just and more sustainable world.      
Episodio 1. De las patologías prepandémicas a la esperanza postpandémica description
Con la participación de Ronald Labonté, experto en salud mundial y coeditor del Observatorio Global de Salud GHW6 (Global Health Watch 6 en inglés), este primer episodio de nuestra serie explora la arquitectura política y económica mundial y su papel estructural en la configuración de los determinantes de la salud en todo el mundo. También analiza el impacto (desigual) de la pandemia de Covid-19 y arroja luz sobre las posibles vías para un mundo más sano, justo y sostenible.
Épisode 1. Des pathologies pré-pandémiques à l'espoir post-pandémique description
Avec la participation de Ronald Labonté, expert en santé mondiale et co-rédacteur en chef de GHW6, cet épisode explore l'architecture politique et économique mondiale et son rôle structurel dans le façonnement des déterminants de la santé dans le monde. Il analyse également l'impact (inégal) de la pandémie de Covid-19 et met en lumière les voies possibles vers un monde plus sain, plus équitable et plus durable.