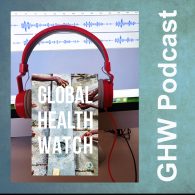 The
third episode
of the GHW6 podcast series features
Sarojini Nadimpally
, coordinator for Health for All Campaign of the People's Health Movement and a founder of SAMA Resource Group for Women and Health, an India based women's organisation. Together with Neelanjana Das, Aakriti  Pasricha and Adsa Fatima - fellow members of SAMA,  Sarojini co- authored a chapter in Global Health Watch 6 analyzing the
gendered impact of the Covid-19 pandemic
, with a focus on South Asia. In this podcast episode, she analyzes the
multiple and intersectional nature of gender discrimination and oppressions
, showing how Covid-19 has disproportionately and negatively impacted women in their roles as healthcare, social and domestic workers. The negative impacts were also felt by trans, intersex, and non-binary persons, all of whom are more likely to be marginalized. The episode also speaks of
the need for gender justice and equality to remain at the center of health movements
globally, to make them truly inclusive and fair, and to seek convergence between the health movement and the movements for gender justice worldwide.
---
Episodio 3: Desigualdades de género en tiempos de COVID-19: una visión desde el Sur Global
El tercer episodio de la serie de podcasts GHW6 cuenta con la participación de Sarojini Nadimpally, coordinadora de la Campaña Salud para Todos del Movimiento por Salud de los Pueblos y fundadora de SAMA Resource Group for Women and Health, una organización con sede en la India. Junto con otros miembros del círculo temático de justicia de género y salud del MSP, Sarojini escribió un capítulo en Global Health Watch 6 en el que se analizan las repercusiones de género de la pandemia de Covid-19, con especial atención al sur de Asia. En este episodio del podcast, analiza la naturaleza múltiple e interseccional de la discriminación y la opresión de género, mostrando cómo el Covid-19 ha afectado desproporcionada y negativamente a las mujeres en su papel de trabajadoras sanitarias, sociales y domésticas. Las personas trans, intersexuales y no binarias, todas ellas más propensas a la marginación, también sufrieron los efectos negativos. El episodio también habla de la necesidad de que la justicia y la igualdad de género permanezcan en el centro de los movimientos sanitarios a escala mundial, para que sean realmente inclusivos y justos, y de buscar la convergencia entre el movimiento sanitario y los movimientos por la justicia de género en todo el mundo.
---
Épisode 3. Inégalités entre les sexes à l'époque de COVID-19 : une vue du Sud
Le troisième épisode de la série de podcasts GHW6 présente Sarojini Nadimpally, coordinatrice de la campagne "Santé pour tous" du Mouvement Populaire pour la Santé et fondatrice du SAMA Resource Group for Women and Health, une organisation basée en Inde. Avec les autres membres du cercle thématique du MPS sur la justice de genre et la santé, Sarojini a écrit un chapitre dans Global Health Watch 6 analysant l'impact sexué de la pandémie de Covid-19, avec un accent sur l'Asie du Sud. Dans cet épisode de podcast, elle analyse la nature multiple et intersectionnelle de la discrimination et des oppressions liées au genre, montrant comment le Covid-19 a eu un impact négatif et disproportionné sur les femmes dans leur rôle de travailleuses sanitaires, sociales et domestiques. Les impacts négatifs ont également été ressentis par les personnes trans, intersexes et non-binaires, qui sont toutes plus susceptibles d'être marginalisées. L'épisode évoque également la nécessité de maintenir la justice et l'égalité entre les sexes au centre des mouvements de santé dans le monde, afin de les rendre véritablement inclusifs et équitables, et de rechercher une convergence entre le mouvement de la santé et les mouvements pour la justice entre les sexes dans le monde.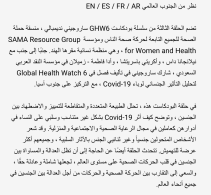 ---