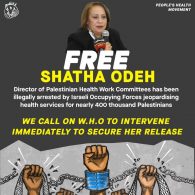 The Israeli Occupying Forces arrested health and human rights activist Shatha Odeh on 7 July 2021. She is a member of the Global Steering Council of the PHM and we condemn her arrest in strongest terms. She is the director of the Health Work Committees (HWC), one of the most prominent Palestinian non-profit health care providers. We are disturbed to learn that Ms. Odeh was denied necessary medication, which was allowed only on the intervention of her lawyer. We have also learnt that she was not given clothes to change, and even denied under clothing, for several days. Ms. Odeh lost nearly 9 kgs of weight within two weeks. We believe that this is nothing but harassment with malicious intent of an elderly woman who has stood for the rights of the downtrodden for decades.
PHM has submitted a petition to the World Health Organization and United Nations High Commissioner for Human Rights to intervene for her immediate release. The petition has been endorsed by nearly 130 organizations from 41 countries and about 590 individuals from 60 countries.
The petition with signatures can be read here.
Click here for Arabic (عربى) French (français) Spanish (español)