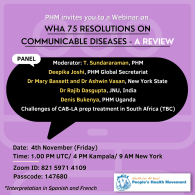 English
The Health Systems Thematic Circle of People's Health Movement (PHM) and Global Health Governance Team of PHM is organising a webinar on "WHA 75 resolutions on Communicable Disease- a Review". This is the third in a series of well-attended international webinars that we have been holding this year that explore the interface between global and national health policies. The previous one was on Human Resources and Communicable Diseases agenda in the WHA 75.

Background:
The 75th World Health Assembly (WHA 75) held in May 2022 had six major resolutions and reports on Communicable Disease. These were on:

The overall picture was of health systems struggling to reach the goals that had been set, even before the pandemic, but with much greater challenges now. Diseases, like polio, are on the cusp of eradication, but the last mile seems to go on forever with unexpected costs and setbacks. Others, like tuberculosis are centuries old problems where though new technologies offer promise, outcomes have worsened.
The PHM has circulated a PHM Update through its WHO Tracker that provides a brief background on all these resolutions. The Webinar would focus on cross cutting challenges in global communicable disease policy drawing both on theoretical review as well as country experience.
Objectives:
1. To share recent developments in policies related to Infectious Diseases and the PHM response to the same.
2. To draw attention to the cross cutting problems why most infectious disease control programs are facing setbacks, including diseases like polio, that were scheduled for elimination.

Programme:
Moderator: T. Sundararaman
Cross-cutting issue in communicable disease control – an overview of the PHM statements on WHA 75 resolutions – Deepika Joshi, PHM Global Secretariat

Polio: the Re-emergent agenda – 

Dr.  Mary Bassett, Commissioner of Health, New York State

 and 

Dr. Ashwin Vasan, Commissioner of Health, New York City 

Reflections on communicable disease challenges from New York

Infectious Diseases- the Unfinished agenda – Dr. Rajib Dasgupta, Prof and Head, CSMCH, Jawaharlal Nehru University,  India

Challenges of CAB-LA prep treatment in SA – 

South Africa (TBC)

Lessons and demands from the Ebola outbreak in Uganda – 

Denis Bukenya, PHM Uganda

Q&A
Date: 4th November, Friday
Time: 1.00 PM UTC/ 6:30 PM India/ 4 PM Kampala/ 9 AM New York

Interpretations will be available in French and Spanish.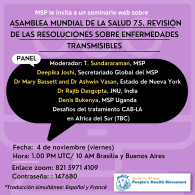 Espanol
El Círculo Temático de Sistemas de Salud del Movimiento por la Salud de los Pueblos (MSP) y el Equipo de Gobernanza de la Salud Mundial del MSP organizan un seminario web sobre "Asamblea Mundial de la Salud 75. Revisión de las resoluciones sobre Enfermedades Transmisibles". Este es el tercero de una serie de seminarios web internacionales que hemos celebrado este año y que exploran la interfaz entre las políticas sanitarias mundiales y nacionales. El anterior fue sobre los recursos humanos y la agenda de las enfermedades transmisibles en la AMS 75.

Antecedentes:
La 75ª Asamblea Mundial de la Salud (AMS 75), celebrada en mayo de 2022, contó con seis importantes resoluciones e informes sobre enfermedades transmisibles. Estos fueron sobre:
VIH, Hepatitis Viral y Enfermedades de Transmisión Sexual
Estrategia mundial contra la tuberculosis
Enfermedades tropicales desatendidas
Hoja de ruta mundial para vencer la meningitis
Programa de erradicación de la poliomielitis
Preparación para la gripe
Control de enfermedades infecciosas
El panorama general era el de unos sistemas sanitarios que luchaban por alcanzar los objetivos que se habían fijado, incluso antes de la pandemia, pero con unos retos mucho mayores ahora. Enfermedades como la poliomielitis están en la cúspide de la erradicación, pero el último tramo parece eternizarse con costes y contratiempos inesperados. Otras, como la tuberculosis, son problemas centenarios en los que, aunque las nuevas tecnologías son prometedoras, los resultados han empeorado.  Otros, en cambio, son nuevos programas de enfermedades verticales.
El MSP ha distribuido una Actualización del MSP a través de su Rastreador de la OMS que ofrece un breve resumen de todas estas resoluciones. El seminario web se centrará en los retos transversales de la política mundial de enfermedades transmisibles, basándose tanto en la revisión teórica como en la experiencia de los países.

Objetivos:
1. 1. Compartir la evolución reciente de las políticas relacionadas con las enfermedades infecciosas y la respuesta de la MSP a las mismas.
2. 2. Llamar la atención sobre los problemas transversales por los que la mayoría de los programas de control de enfermedades infecciosas están sufriendo retrocesos, incluyendo aquellas enfermedades, como la poliomielitis, cuya eliminación estaba prevista.

Programa:
Moderador: T. Sundararaman
->Cuestión transversal en el control de las enfermedades transmisibles – una visión general de las declaraciones de PHM sobre las resoluciones de la AMS 75 – Deepika Joshi Secretaría Mundial de PHM
->Polio- la agenda reemergente – Dra. Mary Bassett, Comisionada de Salud, Estado de Nueva York y Dr. Ashwin Vasan, Comisionado de Salud, Ciudad de Nueva York Reflexiones sobre los desafíos de las enfermedades transmisibles desde Nueva York
->Enfermedades infecciosas: la agenda inacabada – Dr. Rajib Dasgupta, profesor y director del CSMCH, Universidad Jawaharlal Nehru, India
->Desafíos del tratamiento de preparación de CAB-LA en SA – Sudáfrica (TBC)
->Lecciones y demandas del brote de ébola en Uganda – Denis Bukenya, PHM Uganda
->PREGUNTAS Y RESPUESTAS
Fecha y hora: 4 de noviembre, viernes, 1.00 PM UTC/ 6:30 PM India/ 4 PM Kampala/ 9 AM Nueva York/ 10 AM Sao Paulo
Inscripción a la reunión: https://us06web.zoom.us/webinar/register/WN_Ju9V2_oySQKWfEXyy3e98g
Habrá intérpretes en francés y español.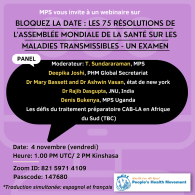 French
Le Cercle thématique sur les systèmes de santé du People's Health Movement (PHM) et l'équipe de gouvernance mondiale de la santé du PHM organisent un webinaire sur le thème "Les résolutions de la WHA 75 sur les maladies transmissibles – un examen". Il s'agit du troisième d'une série de webinaires internationaux très suivis que nous avons organisés cette année pour explorer l'interface entre les politiques de santé mondiales et nationales, le précédent ayant porté sur les ressources humaines et l'agenda des maladies transmissibles de l'AMS 75.

Contexte :
La 75e Assemblée mondiale de la santé (AMS 75), qui s'est tenue en mai 2022, a adopté six résolutions et rapports majeurs sur les maladies transmissibles. Ces résolutions et rapports portaient sur-
le VIH, l'hépatite virale et les maladies sexuellement transmissibles
la stratégie mondiale de lutte contre la tuberculose
les maladies tropicales négligées
la feuille de route mondiale pour vaincre la méningite
Programme d'éradication de la poliomyélite
Préparation à la grippe
Lutte contre les maladies infectieuses
L'image générale est celle de systèmes de santé luttant pour atteindre les objectifs fixés, même avant la pandémie, mais avec des défis bien plus importants aujourd'hui. Des maladies, comme la polio, sont sur le point d'être éradiquées, mais le dernier kilomètre semble s'éterniser, avec des coûts et des revers inattendus. D'autres, comme la tuberculose, sont des problèmes vieux de plusieurs siècles où, malgré les promesses des nouvelles technologies, les résultats se sont aggravés.  D'autres encore sont soit de nouveaux programmes de lutte contre les maladies verticales.
Le PHM a diffusé une mise à jour du PHM par le biais de son WHO Tracker qui fournit un bref aperçu de toutes ces résolutions. Le webinaire se concentrera sur les défis transversaux de la politique mondiale en matière de maladies transmissibles en s'appuyant à la fois sur un examen théorique et sur l'expérience des pays.

Objectifs :
1. Partager les développements récents dans les politiques liées aux maladies infectieuses et la réponse PHM à ces dernières.
2. Attirer l'attention sur les problèmes transversaux qui expliquent pourquoi la plupart des programmes de contrôle des maladies infectieuses sont confrontés à des revers – y compris les maladies comme la polio, dont l'élimination était prévue.

Programme :
Modérateur : T. Sundararaman
->Problèmes transversaux dans le contrôle des maladies transmissibles – un aperçu des déclarations du PHM sur les résolutions de l'AMS 75 – Deepika Joshi Secrétariat mondial du PHM
->Mary Bassett, commissaire à la santé de l'État de New York et Ashwin Vasan, commissaire à la santé de la ville de New York – Réflexions sur les défis posés par les maladies transmissibles à New York.
->Les maladies infectieuses : un programme inachevé – Dr Rajib Dasgupta, professeur et directeur du CSMCH, Université Jawaharlal Nehru, Inde.
->Défis du traitement préventif CAB-LA en Afrique du Sud – Afrique du Sud (à confirmer)
->Les leçons et les exigences de l'épidémie d'Ebola en Ouganda – Denis Bukenya, PHM Ouganda
->Q&A
Date et heure: 4 novembre, vendredi, 13h00 UTC/ 18h30 Inde/ 16h00 Kampala/ 9h00 New York
Inscription à la réunion : https://us06web.zoom.us/webinar/register/WN_Ju9V2_oySQKWfEXyy3e98g
Des interprétations seront disponibles en français et en espagnol.