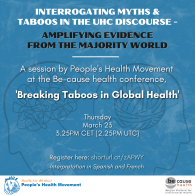 PHM is organising an online session on Universal Health Coverage during the Be-cause health conference Breaking taboos in Global Health. 
UHC has come to be taken as the main health strategy for our times. The mainstream discourse on UHC argues primarily for public financing to purchase services from private providers. It undermines development of a strong and vibrant public health system. Rampant privatisation is achieved through the promotion of an ill-defined approach called "strategic purchasing" in combination with the call for "provider-payer" split, presumably because "government has a conflict of interest if it plays both roles".
The Webinar aims to challenge these myths by drawing lessons from countries of both the global south and the north. The first decade of experience in many countries of the majority world show that UHC initiatives organized on such premises have only led to further commodification and commercialization of healthcare. It led to worsened equity in access and weakened public services without being able to regulate the private sector. Sharing lessons from India, Philippines, Colombia and comparing them with Thailand, this session will discuss that some of these myths are perpetuated despite a lack of evidence. Unfortunately, other arguments, even though based on robust evidence, are being treated as taboos.
Title: Interrogating myths and taboos in the UHC discourse: Amplifying evidence from the majority world
Date: Thursday, March 23
Time: 10.25 pm Manila / 9.25 pm Bangkok / 7.55 pm Delhi / 9.25 am Bogota (2.25 pm UTC)
Register here: shorturl.at/zAPWY
Panellists:
Jamie Dasmarinas, Council for Health and Development, Philippines
Sulakshana Nandi, People's Health Movement and Public Health Resource Network, India
T. Sundararaman, JIPMER International School of Public Health, Puducherry, India
Mario Esteban Hernandez Alvarez, Department of Public Health, Faculty of Medicine, National University of Colombia
Moderator: Remco Van De Pas, Centre for Planetary Health Policy, Germany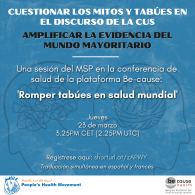 Español
MSP está organizando una sesión en línea sobre la Cobertura Sanitaria Universal durante la conferencia sobre salud de Be-cause Rompiendo tabúes en la Salud Global.
La cobertura sanitaria universal se ha convertido en la principal estrategia sanitaria de nuestro tiempo. El discurso dominante sobre la cobertura sanitaria universal aboga principalmente por la financiación pública para adquirir servicios de proveedores privados. Esto socava el desarrollo de un sistema sanitario público fuerte y vibrante. La privatización desenfrenada se consigue mediante la promoción de un enfoque mal definido llamado "compra estratégica" en combinación con el llamamiento a la división "proveedor-pagador", presumiblemente porque "el gobierno tiene un conflicto de intereses si desempeña ambos papeles".
El seminario web pretende cuestionar estos mitos extrayendo lecciones de países tanto del Sur como del Norte. La primera década de experiencia en muchos países del mundo mayoritario demuestra que las iniciativas de UHC organizadas sobre tales premisas sólo han conducido a una mayor mercantilización y comercialización de la asistencia sanitaria. Se ha empeorado la equidad en el acceso y se han debilitado los servicios públicos sin poder regular el sector privado. Compartiendo las lecciones aprendidas en India, Filipinas y Colombia, y comparándolas con Tailandia, en esta sesión se debatirá que algunos de estos mitos se perpetúan a pesar de la falta de pruebas. Por desgracia, otros argumentos, aunque basados en pruebas sólidas, se tratan como tabúes.
Título: Cuestionar mitos y tabúes en el discurso de la CSU: Ampliando las pruebas del mundo mayoritario
Fecha: Jueves 23 de marzo
Hora: 10.25 pm Manila / 9.25 pm Bangkok / 7.55 pm Delhi / 9.25 am Bogotá (2.25 pm UTC)
Inscríbase aquí: shorturl.at/zAPWY
Ponentes:
Jamie Dasmarinas, Consejo para la Salud y el Desarrollo, Filipinas
Sulakshana Nandi, Movimiento por la Salud de los Pueblos y Public Health Resource Network, India
T. Sundararaman, Escuela Internacional de Salud Pública JIPMER, Puducherry, India
Mario Esteban Hernández Álvarez, Departamento de Salud Pública, Facultad de Medicina, Universidad Nacional de Colombia
Moderador: Remco Van De Pas, Centro de Política de Salud Planetaria, Alemania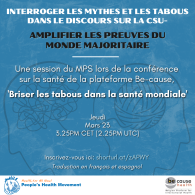 Français
MPS organise une session en ligne sur la couverture sanitaire universelle lors de la conférence Be-cause health Breaking taboos in Global Health (Briser les tabous dans la santé mondiale).
La couverture sanitaire universelle est désormais considérée comme la principale stratégie de santé de notre époque. Le discours dominant sur la CSU plaide principalement en faveur d'un financement public pour l'achat de services auprès de prestataires privés. Il compromet le développement d'un système de santé publique fort et dynamique. La privatisation rampante est réalisée par la promotion d'une approche mal définie appelée "achat stratégique" en combinaison avec l'appel à la séparation "prestataire-payeur", probablement parce que "le gouvernement a un conflit d'intérêt s'il joue les deux rôles".
Le webinaire vise à remettre en question ces mythes en tirant des leçons des pays du Sud et du Nord. La première décennie d'expérience dans de nombreux pays du monde majoritaire montre que les initiatives de santé publique universelle organisées sur de telles bases n'ont fait que renforcer la marchandisation et la commercialisation des soins de santé. Elles ont conduit à une détérioration de l'équité en matière d'accès et à un affaiblissement des services publics sans pouvoir réguler le secteur privé. En partageant les leçons tirées de l'Inde, des Philippines, de la Colombie et en les comparant avec la Thaïlande, cette session discutera du fait que certains de ces mythes sont perpétués en dépit d'un manque de preuves. Malheureusement, d'autres arguments, même s'ils reposent sur des preuves solides, sont traités comme des tabous.
Titre: Interroger les mythes et les tabous dans le discours sur la santé publique universelle : Amplifier les preuves du monde majoritaire
Date: Jeudi 23 mars
Heure: 22h25 Manille / 21h25 Bangkok / 19h55 Delhi / 9h25 Bogota (14h25 UTC)
Inscrivez-vous ici: shorturl.at/zAPWY
Intervenants:
Jamie Dasmarinas, Conseil pour la santé et le développement, Philippines
Sulakshana Nandi, Mouvement Populaire pour la Santé et Public Health Resource Network, Inde
T. Sundararaman, École internationale de santé publique JIPMER, Puducherry, Inde
Mario Esteban Hernandez Alvarez, Département de santé publique, Faculté de médecine, Université nationale de Colombie
Modérateur: Remco Van De Pas, Centre pour la politique de santé planétaire, Allemagne