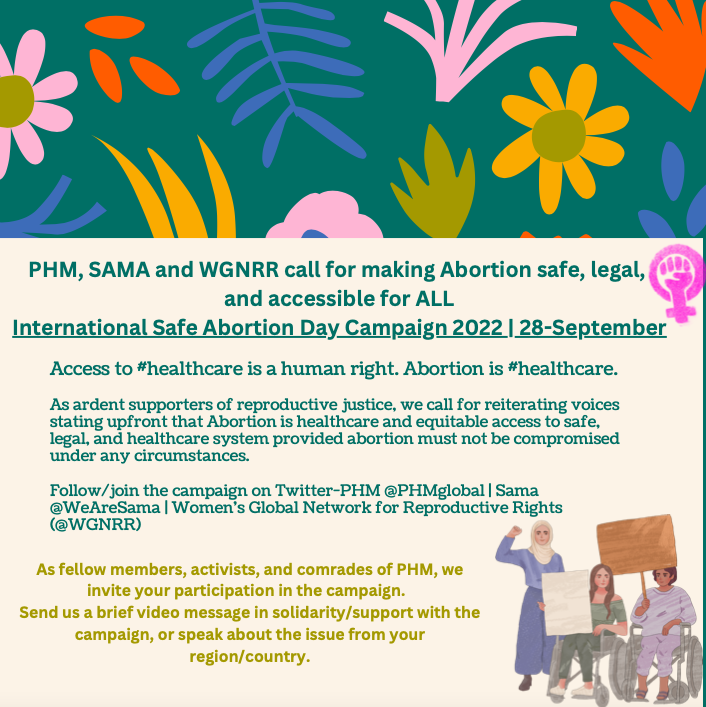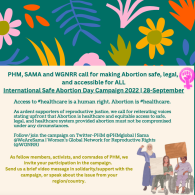 English
As ardent supporters of reproductive justice, we extend our unconditional solidarity with the ongoing struggles across the globe for demanding comprehensive abortion rights and access to safe abortion. PHM, is organising a social media campaign on 27th September, along with SAMA and WGNRR whereby videos and messages will be shared via PHM Twitter handle and Facebook page. Click here for more details.
Our comrades sent videos and messages from across the world – from Argentina, Mexico and Colombia to Morocco, Kenya, India and Nepal. The Gender Justice and Health Thematic Circle prepared posters, Tweets and other visuals along with the Communications Team to spread the message far and wide. Here are the glimpses of the campaign material- 
https://phmovement.org/campaign-on-safe-legal-and-free-abortion/
Español
Como ardientes partidarios de la justicia reproductiva, extendemos nuestra solidaridad incondicional con las luchas en curso en todo el mundo para exigir el derecho al aborto integral y el acceso al aborto seguro. MSP organiza una campaña en las redes sociales el 27 de septiembre, junto con SAMA y WGNRR, en la que se compartirán vídeos y mensajes a través del Twitter y la página de Facebook de PHM. Haga clic aquí p ara obtener más detalles.
Français
En tant que fervents défenseurs de la justice reproductive, nous exprimons notre solidarité inconditionnelle avec les luttes en cours dans le monde entier pour exiger le droit à l'avortement et l'accès à un avortement sans risque. MSP organise une campagne de médias sociaux le 27 septembre, en collaboration avec SAMA et WGNRR. Des vidéos et des messages seront partagés via le Twitter et la page Facebook de PHM. Cliquez ici pour plus de détails.