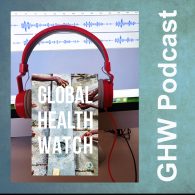 The second episode of the GHW6 podcast series features Amulya Nidhi, national Co-convenor at PHM India and a member of the PHM Steering Council and the PHM thematic circle on environment and ecosystem health. The circle collectively wrote a chapter in Global Health Watch 6 knitting together experiences of environmental devastation and people's resistance worldwide. Drawing from the chapter, the podcast speaks about the context and relation between the development model, extractivism and its impact on communities, their territories, and their health. It also highlights the importance of spreading knowledge on current environmental and health struggles to build international solidarity.
---
Episodio 2. Modelo de desarrollo, extractivismo y medio ambiente: tejiendo resistencias a escala mundial
El segundo episodio de la serie de podcasts del GHW6 cuenta con Amulya Nidhi, coorganizador nacional de MSP India y miembro del Consejo Directivo del MSP y del círculo temático del MSP sobre medio ambiente y salud de los ecosistemas. El círculo redactó colectivamente un capítulo del Observatorio Global de Salud 6 (Global Heath Watch 6 - GHW6 en inglés) en el que se reúnen experiencias de devastación medioambiental y resistencia popular en todo el mundo. Basándose en el capítulo, el podcast habla del contexto y la relación entre el modelo de desarrollo, el extractivismo y su impacto en las comunidades, sus territorios y su salud. También destaca la importancia de divulgar las luchas actuales por el medio ambiente y la salud para construir la solidaridad internacional.  
---
Épisode 2. Modèle de développement, extractivisme et environnement : tricoter les résistances au niveau mondial
Le deuxième épisode de la série de podcasts de GHW6 présente Amulya Nidhi, co-animateur national de la MPS en Inde et membre du Conseil directeur de la MPS et du cercle thématique de la MPS sur l'environnement et la santé des écosystèmes. Le cercle a rédigé collectivement un chapitre de Global Health Watch 6 qui rassemble les expériences de dévastation environnementale et de résistance des populations dans le monde entier. S'inspirant de ce chapitre, le podcast parle du contexte et de la relation entre le modèle de développement, l'extractivisme et son impact sur les communautés, leurs territoires et leur santé. Il souligne également l'importance de diffuser les connaissances sur les luttes actuelles pour l'environnement et la santé afin de construire une solidarité internationale.  
---