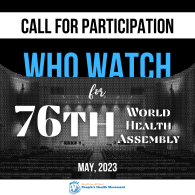 PHM is preparing to watch the 76th World Health Assembly (WHA76) of the World Health Organisation. The session will take place from 21st to 30th May in Geneva, Switzerland. The World Health Assembly takes place once and the Executive Board meeting takes place twice a year. The items on the WHA76 agenda will likely include Public Health Emergencies: preparedness and response (including health emergency in Ukraine), Implementation of International Health Regulations (2005), Prevention and Control of  Non Communicable Diseases,  UNGA high-level meetings preparation for Universal Health Coverage resolution and a declaration for NCD and mental health, Influenza Preparedness, Polio Eradication Transition, and WHO's sustainable financing.
Can you attend the WHO-Watch for the WHA75 Meeting?
Through Medicus Mundi International, PHM participants, or Watchers, are able to attend the meeting, work on PHM's commentaries, collaborate with civil society colleagues,  advocate our position to the WHO and country delegates, and deliver statements from the floor to the governing body meeting. We are looking for young PHM activists to join as Watchers in Geneva. If you are keen on developing your knowledge on issues discussed at the meeting, and to be involved in strengthening these issues in your country or region after the meeting, please let us know. As the work is intense, being able to work under pressure while still providing support to your fellow Watchers is what we are looking for. We expect the Watchers to prioritize the watching work and be available for the full period of the meetings, including a preparatory in-person workshop the week before the WHA76. This means arriving on Sunday 14th May 2023 and departing on 30th May 2023.
If you are interested in the politics of global health governance and understanding the role that people's movements can play in UN processes, the preparatory workshop will be of interest for you. It will also help the you acquaint yourself with the agenda topics and work on them. The workshop will be held from 15th to 20th May in Geneva.
To participate in the WHA76 watch please fill out the application form below. The deadline to fill the form is 17th March, 2023. Note a small number of watchers (1 or 2) will be chosen for representing each region due to the team being small (12-14). Meetings and sessions will be held in English so participants must be fluent English speakers.
PHM will cover the costs related to flight / train / bus tickets, local transport and accommodation in Geneva. A nominal per diem will be provided to cover the food costs.
In case you have any query, please contact: Lauren Paremoer ([email protected] ) OR Candelaria Aráoz Falcón ([email protected])
---
Convocatoria a Observadores para que participen en la 76ª Asamblea Mundial de la Salud (mayo de 2023 – asistencia presencial)
El MSP se está preparando para ser observador de la 76ª Asamblea Mundial de la Salud (AMS76) de la Organización Mundial para la Salud. Las sesiones tendrán lugar del 21 al 30 de mayo de 2023 en Ginebra (Suiza). La Asamblea Mundial de la Salud se celebra una vez al año y la reunión del Consejo Ejecutivo, dos.
Los puntos del temario de la WHA76 incluirán probablemente Emergencias de Salud Pública: preparación y respuesta (incluida la emergencia sanitaria en Ucrania), Aplicación del Reglamento Sanitario Internacional (2005), Prevención y Control de las Enfermedades No Transmisibles, Reuniones de alto nivel de la AGNU para preparar la resolución sobre Cobertura Universal en Salud y una declaración sobre ENT y salud mental, Preparación para la Gripe, Transición hacia la Erradicación de la Poliomielitis y Financiación sostenible de la OMS.
¿Puede asistir al Observatorio 76 de la OMS?
A través de Medicus Mundi International, los participantes del MSP, u Observadores, pueden asistir a la reunión, trabajar en los comentarios del MSP, colaborar con colegas de la sociedad civil, defender nuestra posición ante la OMS y los delegados de los países, y hacer declaraciones desde el estrado en la reunión del órgano rector. Buscamos jóvenes activistas del MSP para que se unan a nosotros como Observadores en Ginebra.
Si está interesado en ampliar tus conocimientos sobre los temas tratados en la reunión y participar en el fortalecimiento de estos temas en su país o región después de la reunión, por favor háganoslo saber. Como el trabajo es intenso, lo que buscamos es que los observadores sean capaces de trabajar bajo presión sin dejar de prestar apoyo a sus compañeros. Esperamos que los Observadores prioricen el trabajo de observación y estén disponibles durante todo el período de las reuniones, incluyendo un taller preparatorio presencial la semana anterior a la AMS76. Esto significa llegar el domingo 14 de mayo de 2023 y partir el 30 de mayo de 2023.
Si le interesan las políticas de gobernanza mundial en el campo de la salud y comprender el papel que pueden desempeñar los movimientos populares en los procesos de las Naciones Unidas, el taller preparatorio será de su interés. También le ayudará a familiarizarse con los temas de la agenda y a trabajar en ellos. El taller se celebrará del 15 al 20 de mayo en Ginebra.
Para participar en el observatorio 76 de la OMS, diligencia el formulario de postulación abajo. La fecha límite para completar y enviar el formulario es el 17 de marzo de 2023. Tenga en cuenta que se elegirá un número reducido de observadores (1 o 2) para representar a cada región, ya que el equipo es pequeño (12-14). Las reuniones y sesiones se celebrarán en inglés, por lo que los participantes deberán hablarlo con fluidez.
Si tiene alguna duda, póngase en contacto con: Lauren Paremoer ([email protected] ) O Candelaria Aráoz Falcón ([email protected])
---
Appel à des observateurs pour participer à la 76e Assemblée mondiale de la santé (mai 2023 – présence en personne)
Le Mouvement Populaire pour la Santé se prépare à participer en tant qu'observateur à la 76e Assemblée mondiale de la santé (WHA76) de l'Organisation mondiale de la santé. Les sessions se tiendront du 21 au 30 mai 2023 à Genève, en Suisse. L'Assemblée mondiale de la santé se tient une fois par an et le Conseil exécutif deux fois par an.
Les points de l'ordre du jour de l'Assemblée mondiale de la Santé 76 devraient inclure les urgences de santé publique : préparation et réponse (y compris l'urgence sanitaire en Ukraine), la mise en œuvre du Règlement sanitaire international (2005), la prévention et le contrôle des maladies non transmissibles, les réunions de haut niveau de l'Assemblée générale des Nations Unies pour préparer la résolution sur la couverture sanitaire universelle et une déclaration sur les maladies non transmissibles et la santé mentale, la préparation à la grippe, la transition vers l'éradication de la poliomyélite et le financement durable de l'OMS.
Pouvez-vous assister à l'Observatoire de l'OMS 75 ?
Par l'intermédiaire de Medicus Mundi International, les participants à la MPS, ou observateurs, peuvent assister à la réunion, travailler sur les commentaires de la MPS, collaborer avec des collègues de la société civile, défendre notre position auprès de l'OMS et des délégués des pays, et faire des déclarations depuis le podium lors de la réunion de l'organe directeur. Nous recherchons de jeunes militants MSP pour nous rejoindre en tant qu'observateurs à Genève.
Si vous souhaitez approfondir vos connaissances sur les questions abordées lors de la réunion et vous impliquer dans le renforcement de ces questions dans votre pays ou votre région après la réunion, faites-le nous savoir. Le travail étant intense, nous recherchons des observateurs capables de travailler sous pression tout en soutenant leurs pairs. Nous attendons des observateurs qu'ils donnent la priorité au travail d'observation et qu'ils soient disponibles pour toute la durée des réunions, y compris pour un atelier préparatoire en face-à-face la semaine précédant l'AMS76. Cela signifie que vous devez arriver le dimanche 14 mai 2023 et repartir le 30 mai 2023.
Si vous vous intéressez à la politique de la gouvernance mondiale en matière de santé et à la compréhension du rôle que les mouvements populaires peuvent jouer dans les processus de l'ONU, l'atelier préparatoire vous intéressera. Il vous aidera également à vous familiariser avec les questions à l'ordre du jour et à travailler sur celles-ci. L'atelier se tiendra du 15 au 20 mai à Genève.
Pour participer à l'Observatoire 76 de l'OMS, veuillez remplir le formulaire de candidature ci-dessous. La date limite pour remplir et envoyer le formulaire est le 17 mars 2023. Veuillez noter qu'un petit nombre d'observateurs (1 ou 2) sera choisi pour représenter chaque région, l'équipe étant réduite (12-14). Les réunions et les sessions se dérouleront en anglais, les participants devront donc maîtriser l'anglais.
Si vous avez des questions, veuillez contacter : Lauren Paremoer ([email protected] ) OU Candelaria Aráoz Falcón ([email protected])