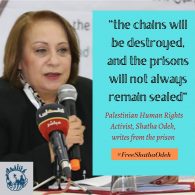 Shatha Odeh, Palestinian health and human rights activist, was illegally arrested on 7th July by Israeli Occupying Forces. She is a dedicated health worker and Director of Health Work Committees, an organisation that has played an important role in providing health care services to a large number of Palestinians. She is also a member of the Steering Council of PHM. Her arrest has been questioned globally by activists, civil society organisations and current and past members of the United Nations.
In this moving letter from the prison, Shatha writes to her friends and others who have shown solidarity with her and have come out in support for her release. Click here to read the letter in English and عربي.
A letter to all friends and internationals in solidarity
Damoun Prison, 23 September 2021
To all friends and people in solidarity, to all the free people of the world, the chains will be destroyed, and the prisons will never remain sealed.
I salute you all from the Israeli Occupation's prison called "Damoun" on the Mount of Carmel, Haifa. Through the lawyers that visit me, I am made aware of all the efforts invested towards (my) the freedom. The case of my detention, indeed, demonstrates the Israeli Occupation's policies that aim to disable the services provided by the Palestinian Civil Society organizations, and to terrorize and forcibly close their offices only because they aim and serve to reinforce the steadfastness and resilience of the Palestinian people. Undoubtedly, the Israeli Occupation prohibits us from our basic rights as Palestinian human beings and mutes all the free voices that expose the violations and policies practiced against us.
The Palestinian Civil Society Organizations are the pioneers of our just cause and work extensively to uncover the Occupation's dangerous practices on all aspects. Thus, as a part of the Palestinian people, we are not shielded nor protected from any arbitrary action be it detention, murder, or torture. However, their prisons shall not break us, nor their oppressive policies shall affect our path to our rightful struggle.
I thank you all and I commend your actions, and wish for the continuity of your support, as it will indeed impact the legal proceedings and judicial decisions.
I am strong and standing firmly by my beliefs that freedom is inevitable even if it is acquired after a while. We will not relent nor break with your power, your determination, and your support, which certainly equip me with honour, glory, and dignity.
Sincerely yours,
Shatha Odeh
Damoun Prison, 23 September 2021