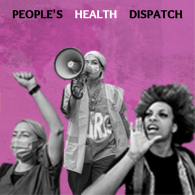 Inequities in access to Covid-19 and monkeypox vaccines and medicines point to the benefits the whole world could reap from an R&D model independent of Big Pharma. The ongoing struggle for access to medicines builds upon decades of activism in every corner of the world. Health activists in South Korea are carrying on their struggle for transparency in drug procurement and the strengthening of public capacities for pharmaceutical production.
A group of Italian scientists and activists launched a European Union-wide call to build public infrastructure for R&D of medicines in the EU. Their goal is a public program which would make products more accessible and reduce the amount of public funds ending up in pharmaceutical companies' pockets.
For these stories and others on the death of journalist Vladimir Matijanić in Croatia; water crisis in Mississippi; Brazilian nurses mobilisation for a minimum wage; and a map of availability of the contraceptive pill as an over-the-counter medicine, click here.