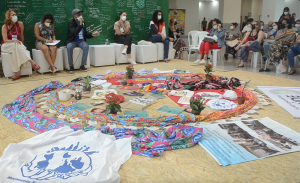 Con una participación que supera las 6 mil personas avanza el XIII Congreso Brasileño de Salud Colectiva:  "Salud es Democracia: Diversidad, Equidad y Justicia Social", organizado por la Asociación Brasileña de Salud Colectiva (Abrasco), en el que los círculos nacionales y regionales latinoamericanos del Movimiento por la Salud de los Pueblos han desarrollado una agenda temática que va desde el análisis de la crisis global en todos los niveles de la vida en el planeta, la discusión sobre la transformación de los sistemas de salud y los aportes del Observatorio Global de Salud 6 publicado a comienzos del 2022 y lanzado durante el congreso en Salvador, Bahia, Brasil.
En su primer encuentro, el MSP-LA, propuso la discusión sobre la necesidad de transformar los sistemas de salud de la región en sistemas solidarios, inclusivos, únicos, interculturales, enfocados en la protección de la vida, en la salud como un derecho humano fundamental y que responda a las necesidades y sentires de las comunidades.
Los delegados del MSP-LA de Guatemala, El Salvador, Nicaragua, Costa Rica, Ecuador, Perú, Colombia, Venezuela, Brasil, Paraguay, Chile y Argentina, discutieron sobre la amenaza a la vida en el planeta que significa la profunda crisis económica, energética, social y política que vive el mundo actualmente, haciendo un llamado a la unidad y la lucha de los pueblos por el derecho a la salud, al buen vivir y el cuidado de nuestra casa común.
En una de sus intervenciones en el congreso de Abrasco, Román Vega, Coordinador Global del MSP dijo que  "la lucha por la salud no es solamente una lucha local, nacional, es una lucha regional y global, estamos hablando de la transformación de los sistemas de salud en sistemas solidarios, universales y propios, que incorporen la visión de los pueblos ancestrales, pero también estamos en el momento por la politización del movimiento popular por la salud, por lo tanto la educación política tiene que tener esa mirada crítica y política en función de cambiar la sociedad en la que vivimos".
Al mismo tiempo y en paneles separados las ministras de salud de Chile, Ximena Aguilera y Colombia, Carolina Corcho, hablaron del estado actual de los sistemas de salud de sus países y los desafíos que representan su transformación, desde la universalidad hasta su aporte en la construcción de la "Paz total" en el caso de Colombia.
---
Uma visão latino-americana do direito à saúde
Com uma participação de mais de 6.000 pessoas, o XIII Congresso Brasileiro de Saúde Coletiva: "Saúde é Democracia": Diversidade, Equidade e Justiça Social", organizado pela Associação Brasileira de Saúde Coletiva (Abrasco), no qual os círculos nacionais e regionais latino-americanos do Movimento pela Saúde dos Povos desenvolveram uma agenda temática que vai desde a análise da crise global em todos os níveis da vida no planeta, a discussão sobre a transformação dos sistemas de saúde e as contribuições do Observatório Global de Saúde 6 publicado no início de 2022 e lançado durante o congresso em Salvador, Bahia, Brasil.
Em sua primeira reunião, a MSP-LA propôs a discussão sobre a necessidade de transformar os sistemas de saúde da região em sistemas solidários, inclusivos, únicos e interculturais, focalizados na proteção da vida, na saúde como um direito humano fundamental e responsivos às necessidades e sentimentos das comunidades.
Os delegados do MSP-LA da Guatemala, El Salvador, Nicarágua, Costa Rica, Equador, Peru, Colômbia, Venezuela, Brasil, Paraguai, Chile e Argentina, discutem a ameaça à vida no planeta representada pela profunda crise econômica, energética, social e política que o mundo vive atualmente, apelando à unidade e à luta dos povos pelo direito à saúde, à boa vida e ao cuidado de nossa casa comum.
Em um de seus discursos no congresso da Abrasco, Román Vega, Coordenador Global do MSP disse que "a luta pela saúde não é apenas uma luta local, nacional, é uma luta regional e global, estamos falando da transformação dos sistemas de saúde em sistemas de solidariedade, universais e próprios, que incorporam a visão dos povos ancestrais, mas estamos também em um momento de politização do movimento popular pela saúde, portanto a educação política tem que ter esse olhar crítico e político em termos de mudança da sociedade em que vivemos".
Ao mesmo tempo e em painéis separados, os Ministros da Saúde do Chile, Ximena Aguilera, e da Colômbia, Carolina Corcho, falaram sobre o estado atual dos sistemas de saúde em seus países e os desafios que sua transformação representa, desde a universalidade até sua contribuição para a construção da "Paz Total" no caso da Colômbia.
---
A Latin American view of the right to health
With a participation of more than 6 thousand people, the XIII Brazilian Congress of Collective Health: "Health is Democracy: Diversity, Equity and Social Justice", organized by the Brazilian Association of Collective Health (Abrasco), in which the national and regional Latin American circles of the People's Health Movement have developed a thematic agenda ranging from the analysis of the global crisis at all levels of life on the planet, the discussion on the transformation of health systems and the contributions of the Global Health Observatory 6 published at the beginning of 2022 and launched during the congress in Salvador, Bahia, Brazil.
In its first meeting, the MSP-LA proposed a discussion on the need to transform the region's health systems into systems of solidarity, inclusion, universality, intercultural approach, and focused on the protection of life, on health as a fundamental human right and that respond to the needs of communities.
MSP-LA delegates from Guatemala, El Salvador, Nicaragua, Costa Rica, Ecuador, Peru, Colombia, Venezuela, Brazil, Paraguay, Chile and Argentina discussed the threat to life on the planet posed by the profound economic, energy, social and political crisis the world is currently experiencing, calling for unity and the struggle of the peoples for the right to health, good living and the care of our common house.
In one of his speeches at the Abrasco congress, Roman Vega, Global Coordinator of the PHM, said that "the struggle for health is not only a local, national struggle, it is a regional and global struggle, we are talking about the transformation of health systems in solidarity, universality and own systems, which incorporate the vision of the ancestral peoples, but we are also at the moment for the politicization of the popular movement for health, therefore political education has to have that critical and political look in terms of changing the society in which we live".
At the same time and in separate panels, the Ministers of Health of Chile, Ximena Aguilera and Colombia, Carolina Corcho, spoke about the current state of the health systems of their countries and the challenges that represent their transformation, from universality to their contribution in the construction of "Total Peace" in the case of Colombia.