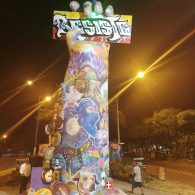 Con un taller preparatorio, en Santiago de Cali los días 17 y 18 de febrero, en el que convergieron las fuerzas sociales que luchan por el derecho a la salud, se dio inicio a la organización de la 5a Asamblea Mundial por la Salud de los Pueblos -ASP5-.
En el taller el MSP Colombia, como país anfitrión trazó su la hoja de ruta de la organización de la ASP5 a celebrarse en Colombia en diciembre de 2023.
Delegados de movimientos sociales, organizaciones, pueblos étnicos, activistas, representantes campesinos, sindicales, estudiantiles y de diversas expresiones sociales por el derecho a la salud de Colombia y del MSP Lationoamérica, participaron en el taller en el que se eligieron los coordinadores y representantes al Comité Organizador, se discutieron las apuestas y alcances políticos y organizativos de la ASP5, al ser Colombia sede tanto de la Asamblea como de la Universidad Internacional por la Salud de los Pueblos.
Delegados internacionales del MSP Global compartieron, de manera virtual, sus experiencias de asambleas anteriores, también se discutió la preparación de la agenda programática y retos logísticos, administrativos y financieros que implica organizar un evento de alcance global en la postpandemia.
Con el acompañamiento del comité organizador nacional y del Secretariado Global del MSP se hizo una reunión de acercamiento con las autoridades de gobierno departamental del Valle del Cauca  y de la Universidad del Valle, que serán la sede de la ASP5, buscando hacer los enlaces y primeros acuerdos que garanticen la organización y éxito de la ASP5 en Colombia.

---
English version
With a preparatory workshop in Santiago de Cali on February 17 and 18, in which the social forces struggling for the right to health converged, the organization of the 5th People's Health Assembly -PHA5- began.
At the workshop, the PHM Colombia, as host country, drew its roadmap for the organization of the PHA5 to be held in Colombia in December 2023.
Delegates from social movements, organizations, ethnic peoples, activists, peasant, union, student representatives and various social expressions for the right to health in Colombia and PHM Latin America, participated in the workshop in which the coordinators and representatives to the Organizing Committee were elected, the political and organizational stakes and scope of the PHA5 were discussed, as Colombia will host both the Assembly and the International People's Health University.
International delegates of the PHM Global shared, virtually, their experiences of previous assemblies, and also discussed the preparation of the programmatic agenda and logistical, administrative and financial challenges involved in organizing an event of global scope in the post-pandemic period.
With the support of the national organizing committee and the PHM Global Secretariat, a meeting was held with the authorities of the departmental government of Valle del Cauca and the Universidad del Valle, which will host the PHA5, seeking to make the links and first agreements to ensure the organization and success of the PHA5 in Colombia.
---
Française
Avec un atelier préparatoire à Santiago de Cali les 17 et 18 février, qui a rassemblé les forces sociales luttant pour le droit à la santé, l'organisation de la 5e Assemblée Populaire la santé des peuples – APS5 – a débuté.
Lors de cet atelier, le MPS Colombie, en tant que pays hôte, a dessiné sa feuille de route pour l'organisation de l'APS5 qui se tiendra en Colombie en décembre 2023.
Des délégués de mouvements sociaux, d'organisations, de peuples ethniques, d'activistes, de représentants paysans, syndicaux, étudiants et de diverses expressions sociales pour le droit à la santé en Colombie et du MPS Amérique Latine, ont participé à l'atelier au cours duquel les coordinateurs et les représentants au Comité d'organisation ont été élus, les enjeux politiques et organisationnels et la portée de l'APS5 ont été discutés, puisque la Colombie accueillera à la fois l'Assemblée et l'Université internationale pour la santé des peuples.
Les délégués internationaux de la MPS globale ont partagé virtuellement leurs expériences des assemblées précédentes, et ont également discuté de la préparation de l'agenda du programme et des défis logistiques, administratifs et financiers liés à l'organisation d'un événement de portée mondiale dans la période post-pandémique.
Avec le soutien du comité national d'organisation et du secrétariat mondial du MSP, une réunion d'introduction a eu lieu avec les autorités du gouvernement départemental de Valle del Cauca et l'université de Valle, qui accueillera l'APS5, afin d'établir les liens et les accords initiaux qui garantiront l'organisation et le succès de l'APS5 en Colombie.
.
---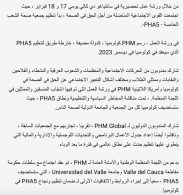 #ASP5Colombia2023
#SaludParaTodos
#PHA5Colombia2023
#Health4All